Ellie + Mohsen 03.03.19 – Valentine present Harley ride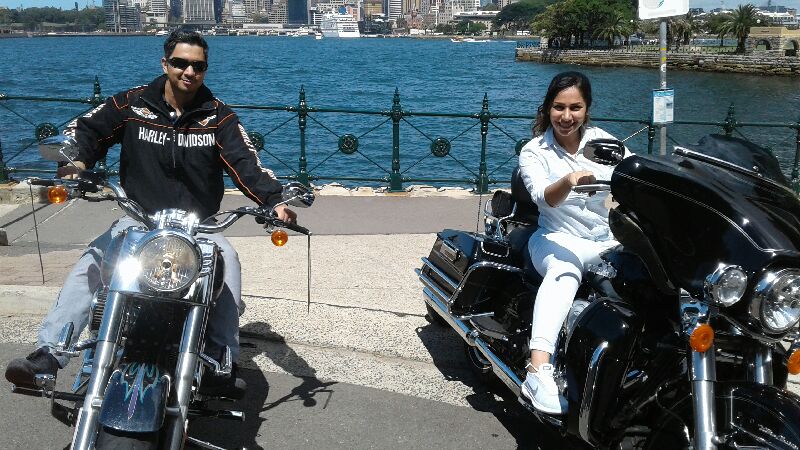 On Valentines Day Mohsen gave Ellie flowers but also promised a Harley ride. So the idea of a Valentine present Harley ride was born. He made good his promise today!
Ellie loves Harleys but was terrified of getting on motorcycles. Jungle and Perry calmed her down and she got on a Harley. Eventually she started to relax and loved it. They both want to do a Harley ride again.
Our passengers live in Sydney but caught the train in to Wynyard. This meant they could actually see more of the city than if we started outside the CBD. Perry and Jungle picked them up at Wynyard and took them for a fun ride. They rode over the Sydney Harbour Bridge, an experience we never get tired of. First stop was Kirribilli for photos and to see the beautiful view across the the Opera House and the CBD.
Kirribilli route
They did the Kirribilli route which means riding under the north side of the Harbour Bridge, past the Luna Park face and the North Sydney Olympic Pool. A short ride around North Sydney before heading back over the bridge to the Domain. Then they rode past the edge of the Royal Botanical Gardens to Mrs Macquarie's Point.
There are wonderful views from there: North across Sydney Harbour to Kirribilli Point and west to the Opera House and the Harbour Bridge. Next they headed into Woolloomoollo and the infamous Kings Cross. The riders then took them back to Wynyard for them to catch the train back home.
Valentine present Harley ride
The Valentine present Harley ride was the best present ever! Ellie has conquered her fear of being on the back of a Harley.
https://www.trolltours.com.au/product/design-your-own-ride/
Sydney Harbour is amazing. Here are eleven things you probably don't know, I didn't. For example: One Sydharb is an official Australian unit of measurement: https://www.abc.net.au/news/2014-09-04/11-things-you-should-know-about-sydney-harbour/5714612
https://www.trolltours.com.au/wp-content/uploads/2019/03/Valentine-present-Harley-ride-EllMoh1.jpg
450
800
Kat
https://www.trolltours.com.au/wp-content/uploads/2016/08/logo.png
Kat
2019-03-07 16:37:22
2019-03-07 16:37:40
Ellie + Mohsen 03.03.19 – Valentine present Harley ride