Christine + Sonja 09.03.19 – 14th birthday surprise ride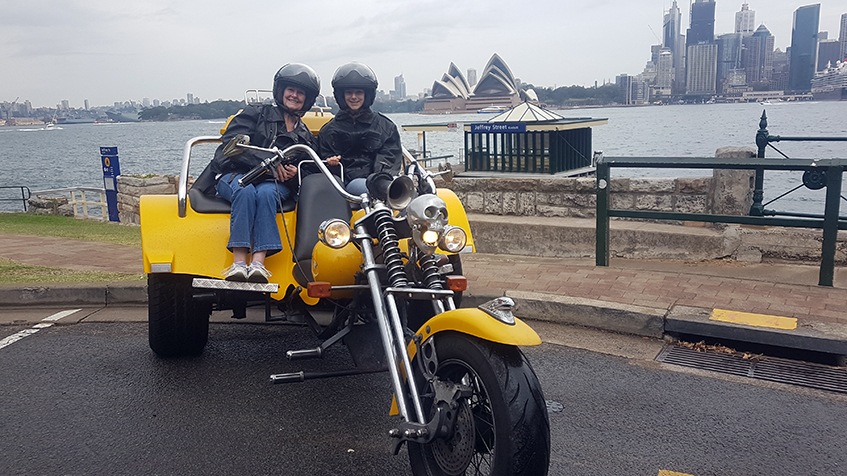 A 14th birthday surprise ride testimonial – Even before the rider (Craig) got back Christine wrote to us: "Thank you for the fabulous Troll Tour with Craig for my Granddaughters birthday. Will recommend this to all." We love happy customers!!
Grandma organised a 14th birthday surprise ride! Sonja just didn't know what was happening. She sure was happy though. Christine had organised the surprise ride earlier in the week and was so happy we could do what she wanted.
Craig picked them both up from grandma's place. This was in the inner west of Sydney. They did the 3 Bridges ride.
The 3 Bridges ride
The 3 Bridges ride is a good one. Firstly Craig rode them over the Sydney Harbour Bridge. As we have previously mentioned, we love it! It is a wonderful structure to ride over. We love to lift our head up to see the arch in all its glory. We aren't talking about the riders though, they keep their sight firmly on the road.
First stop is Kirribilli. As you can see by the photo this is a great place to look across the harbour. The view really is impressive. The first thing you will see is the Sydney Opera House and the CBD. if you look right you will see a different perspective of the bridge.
Then they started their adventure again by riding into the lower north shore suburbs. This led them into the inner western suburbs where the record building Gladesville Bridge is. It is the second main bridge on the 3 Bridges ride.
The next place they rode to was ANZAC Bridge (a cable-stayed bridge). BUT, there was a detour though. A really good one which always happens on the 3 Bridges ride. The detour was the "Bay Run". It is a 7km footpath for walkers and pushbike riders which travels around 'Iron Cove'. This is a very scenic inlet of Sydney Harbour.
After the Bay Run they rode over the wonderful ANZAC Bridge and back to home in the inner west. A 14th birthday surprise ride was the perfect present for a teenager! Grandma loved it also.
https://www.trolltours.com.au/product/three-bridges-trike-tour/
https://www.trolltours.com.au/wp-content/uploads/2019/03/Harley-14th-birthday-surprise-ride-ChrSon1.jpg
476
847
Kat
https://www.trolltours.com.au/wp-content/uploads/2016/08/logo.png
Kat
2019-03-17 23:03:59
2019-03-17 23:04:25
Christine + Sonja 09.03.19 – 14th birthday surprise ride