Michelle's Family 30.03.19 – family's 14th birthday trike ride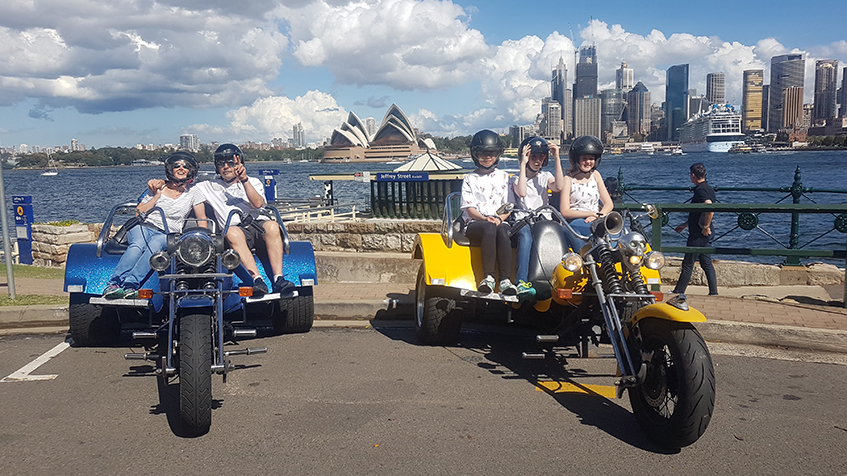 Michelle (mum) organised a family's 14th birthday trike ride. It was for her daughter's 14th birthday and two of her friends. Michelle and her husband (dad) came along for the ride.
The riders, Craig and Brian, picked them all up from their home in Balmain. This is in the inner west of Sydney. The parents had decided the 3 Bridges ride was a great route to ride around.
The ANZAC Bridge
The first bridge they rode over was the ANZAC Bridge. It is such an amazing bridge. We have no idea how it was designed. We have an even less idea how it was built. All we know is it is great to ride over.
Not long after the ANZAC Bridge was the ride over the second bridge. The absolutely wonderful bridge – the iconic Sydney Harbour Bridge.
The iconic Sydney Harbour Bridge
The first stop was Jeffrey Street Wharf at Kirribilli. The beautiful views never cease to amaze us. Our passengers and our riders always love to look over Sydney Harbour to the Opera House and the city.
They then continued to Blues Point which also has fantastic views across Sydney Harbour. From here, the perspective is looking east and is totally different to the view from Kirribilli. Both views are worth checking out!
The Gladesville Bridge
They all continued riding from Blues Point along the lower north shore suburbs. This took them to the second major bridge in Sydney – the Gladesville Bridge. It is a wonderful bridge in a totally different way.
After they rode over the Gladesville Bridge they continued on a main thoroughfare. This continued for a short while until they turned off into the inner west of Sydney. They joined the 'Bay Run' for a while. The 'Bay Run' is a 7 km long run around Iron Cove. People come from all around Sydney to run or walk or ride their bikes.
Please look at our precious posts (and some future posts) for information on any of the bridges. ? We have just reread what we wrote and by 'precious posts' we really do mean 'previous posts'. ?
We really do have a sense of humour as do all our riders. Please feel free to act your self!! A family's 14th birthday trike ride is a wonderful experience. We will help you organise a ride for anyone in your family who is celebrating a big occasion!
https://www.trolltours.com.au/product/three-bridges-trike-tour/
https://www.trolltours.com.au/wp-content/uploads/2019/04/Harley-Familys-14th-birthday-trike-ride-Mic1.jpg
476
847
Kat
https://www.trolltours.com.au/wp-content/uploads/2016/08/logo.png
Kat
2019-04-04 02:01:08
2019-04-05 19:22:17
Michelle's Family 30.03.19 – family's 14th birthday trike ride