Kim + Luke 19.04.19 – 60th birthday trike fun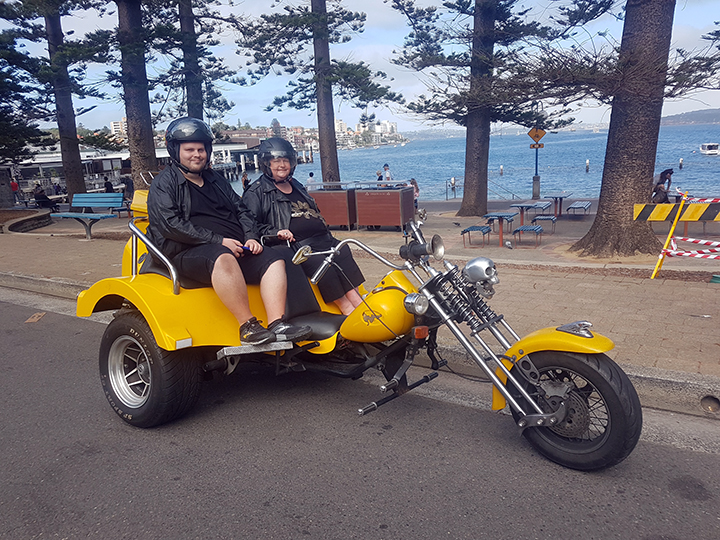 Luke gave his mum some 60th birthday trike fun. What better way to celebrate such a milestone birthday! The best present!
60th birthday trike fun tour
Craig picked them up in Manly, near the ferry wharf. Firstly they rode to Tanya Park, this is part of Dobroyd Head. Arabanoo lookout is there and it's a great spot for whale watching, offering views over North and South Head and the Pacific Ocean.
Next they rode past Grotto Point and onto Clontarf. It is a lovely area with a nice beach and picnic area. Clontarf Beach is Stop 5 on the Spit to Manly Walk. The walk is definitely worth doing if you have time.
Over the Spit Bridge to Balmoral Beach. The Spit Bridge is extremely rare as it is the only lift bridge still operational on a major arterial road. Balmoral Beach has beautiful houses and expensive yachts, and a beach that is positioned with views over Sydney Harbour National Park and through "the Heads" – the gateway to Sydney Harbour.
They continued on to Jeffrey Street Wharf, Kirribilli. This area has wonderful views across Sydney Harbour to the Sydney Opera House and the CBD. It also has a different perspective of the Sydney Harbour Bridge, definitely worth a look.
They then rode over the iconic Harbour Bridge before being dropped of in the city. The 60th birthday trike fun really was great fun and such a memorable experience.
\https://www.trolltours.com.au/product/the-north-shore-skimmer-trike-tour/
An Attempted Assassination at Clontarf Beach
This is new information to us! While researching Clontarf Beach to make this post informative, we found this:
Clontarf gets its name from a coastal suburb of Dublin, known for the Battle of Clontarf in 1014 which freed Ireland from foreign domination. On 12 March 1868 Prince Alfred, the Duke of Edinburgh and second son of Queen Victoria, was guest of honour here at a sailor's picnic.
Dublin-born Henry James O'Farrell jumped out of the crowd of picnickers, shooting the Duke in the back. The Duke's rubber suspenders deflected the bullet, sparing him major injury.
Guilty, O'Farrell was hanged a month later, despite the Duke seeking clemency on his behalf.
https://www.trolltours.com.au/wp-content/uploads/2019/04/Harley-60th-birthday-trike-fun.jpg
540
720
Kat
https://www.trolltours.com.au/wp-content/uploads/2016/08/logo.png
Kat
2019-04-28 20:46:04
2019-05-04 19:19:57
Kim + Luke 19.04.19 – 60th birthday trike fun