Kelly-Morrow Family 01.06.19 – 80th birthday surprise tour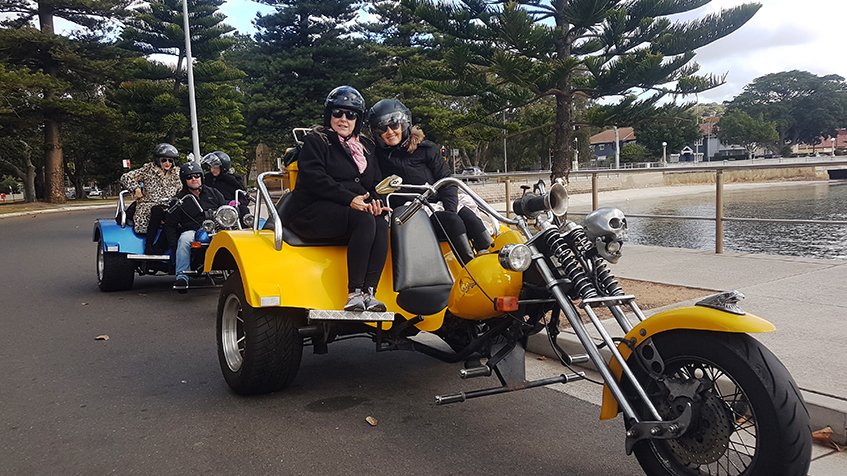 Shane emailed us, "I'd like to organise an 80th birthday surprise tour as a present for my mother-in-law and her 3 daughters". Sure, we can organise that for you. Shane wanted it to be a transfer from the restaurant they were having lunch in to the mother-in-law's home in the eastern suburbs.
Lord Nelson Pub
We organised Craig and Brian to pick them up from the Lord Nelson Pub in the Rocks. It is Troll's favourite pub in Sydney. The passengers had eaten a delicious lunch there and were ready to head home. The Lord is Sydney's oldest continually licensed hotel still trading within its original fabric.
Kings Cross
Firstly, they rode through the city. It is always interesting to people watch! After that, they ended up in the infamous Kings Cross. It is the red light district of Sydney so it is interesting to drive through. However, it is not nearly as raunchy as it was in its heyday.
Double Bay and Bondi Beach
Continuing on, they rode into posh Double Bay. This is one of the expensive eastern suburb areas. Of course, we had to ride them past the famous Bondi Beach. It might be the first day of winter but the beach was still busy.
Tamara Beach and Coogee Beach
Similarly, though Tamara Beach is not as famous it is still lovely. We prefer it to Bondi Beach to be honest. Travelling along the beautiful coastline there are glimpses of the South Pacific Ocean. They continued on to Coogee Beach which is also worth seeing. Time was up therefore, our riders dropped our passengers at Maroubra.
In conclusion, the 80th birthday surprise tour was a huge success. The mother-in-law and her three daughters got a huge surprise and loved every second of the experience. Contact us and we will help make your special occasion very special.
https://www.trolltours.com.au/product/design-your-own-ride/ https://www.lordnelsonbrewery.com/
https://www.trolltours.com.au/wp-content/uploads/2019/06/Harley-80th-birthday-surprise-tour-KelMor1.jpg
476
847
Kat
https://www.trolltours.com.au/wp-content/uploads/2016/08/logo.png
Kat
2019-06-01 20:55:47
2019-06-01 20:56:12
Kelly-Morrow Family 01.06.19 – 80th birthday surprise tour