Hairdresser Conference 11.06.19 – 3 Bridges fun tour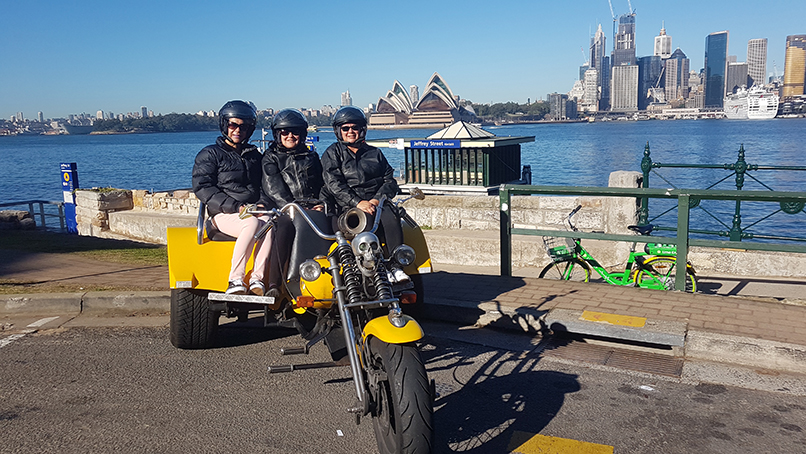 Our passengers are from New Zealand and in Sydney for a hairdresser conference. Wanting to do something different and memorable, they organised the 3 Bridges fun tour last night. We were able to get a rider at late notice.
Craig picked them up from their hotel in Walsh Bay. Our passengers wanted to go somewhere different to the norm so we took them on the 3 Bridges ride. It is actually one of our most popular tours.
Sydney Harbour Bridge, Jeffrey Street Wharf
Firstly, they rode over the Sydney Harbour Bridge. It is one of the most iconic bridges in the world. It is great to see the arches up above your head so make sure you look up. Then for a stop at Jeffrey Street Wharf for photos across stunning Sydney Harbour to the Opera House. They continued on to the lower north shore and along the interesting roads to the inner west. This meant they rode onto another bridge before getting to the second main bridge of the tour – the Gladesville Bridge.
Fig Tree Bridge, Tarban Creek Bridge, Gladesville Bridge
It is the Fig Tree Bridge which opened in 1963 and spans the Lane Cove River. After that bridge, they continued on and crossed the third of the bridges Tarban Creek Bridge. This spans Tarban Creek. Then they got to bridge #2 of the main 3 Bridges, the Gladesville Bridge. It has wonderful views along Parramatta River towards the Harbour Bridge and the city.
The Gladesville Bridge spans the Parramatta River and when it was completed in 1964, Gladesville Bridge was the longest single span concrete arch ever constructed.
The 7 km long Bay Run.
This bridge is on the main arterial thoroughfare of Victoria Road. They travelled along for a short while before turning off into the inner west suburb of Drummoyne. Following the shoreline of Iron Cove, which is part of the Parramatta River, they saw some lovely water views. It is part of the 7 km long Bay Run.
They continued along Victoria Road until they turned off to follow part of the Bay Run. This is a scenic area which follows the water around Iron Cove Bay. Then finally the fabulous ANZAC Bridge. It is one of our favourites and also great to see without a roof over your head.
Craig then dropped them back at their hotel so they could continue exploring Sydney on foot. The 3 Bridges fun tour was definitely fun and memorable. In conclusion, our passengers loved it and will talk about it for a long time to come.

https://www.trolltours.com.au/product/three-bridges-trike-tour/
https://www.trolltours.com.au/wp-content/uploads/2019/06/Harley-3-Bridges-fun-tour-Hair1.jpg
454
806
Kat
https://www.trolltours.com.au/wp-content/uploads/2016/08/logo.png
Kat
2019-06-11 16:57:30
2019-06-11 16:57:52
Hairdresser Conference 11.06.19 – 3 Bridges fun tour