Atul + Shanu 21.06.19 – Harley tours Sydney Australia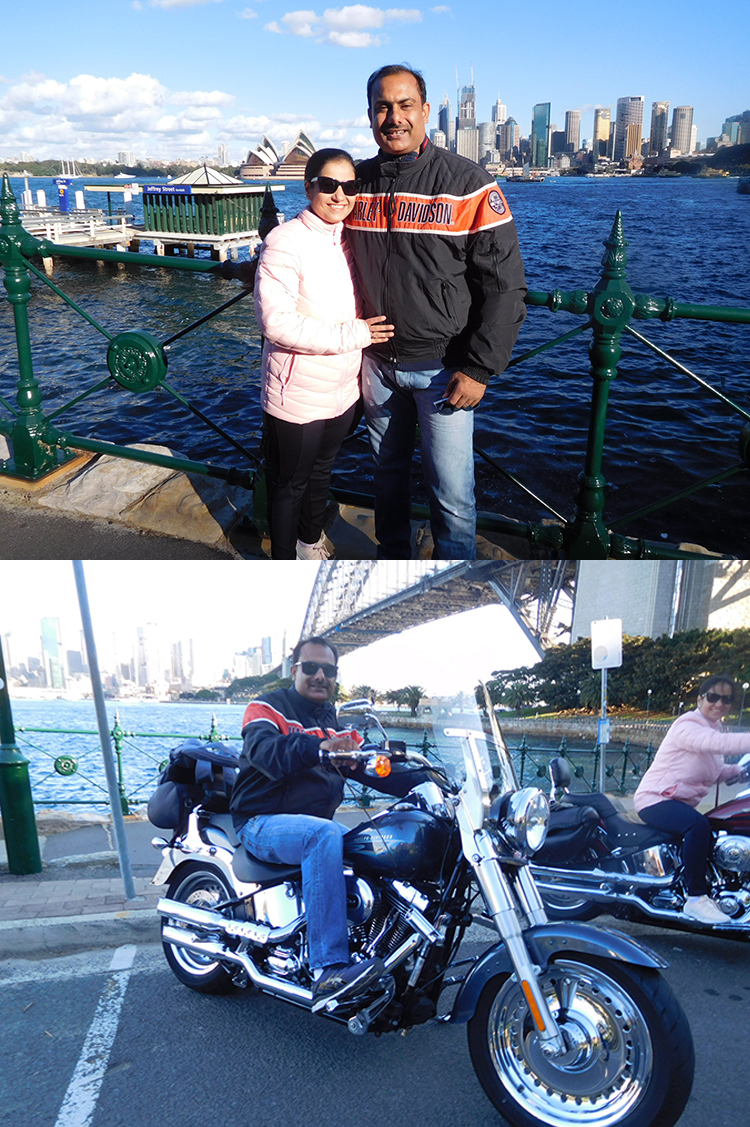 Well, what do we say about Harley tours Sydney Australia? Many things actually but the best is that Shanu started off as a very reluctant participant. But she ended up being a convert!
We have heard that before.
Our passengers are from India and having a holiday in Sydney. Shanu said at the start of the Harley tour that she would probably do only half the tour. We have heard that before. ? She soon settled down and was happy to do the full tour.
Jungle and Phil picked them up from their hotel in the city. Firstly they rode over the Sydney Harbour Bridge. What a great sight! Make sure you look up to see the arches.
Sydney Harbour Bridge and Kirribilli
They stopped at Jeffrey Street Wharf, Kirribilli. Here there are wonderful views across Sydney Harbour to the Sydney Opera House and the CBD. Next they rode the Kirribilli Loop. This takes you under the north side of the Harbour Bridge. A totally opposite perspective than riding across it.
Mrs Macquarie's Point
Continuing on, they rode back across the bridge to Mrs Macquarie's Point. This brings you close to 'her' Chair but it will depend on time, whether you can walk to it or not.
They then rode through the infamous Kings Cross before joining the major thoroughfare of William St. This led them through the city to Circular Quay. They were dropped off there to continue exploring our beautiful city.
In conclusion, our Harley tours Sydney Australia are really worth it. They are lots of fun, you will see many of our beautiful and famous sights. Most of all, they are safe! Please, try one for yourself.
https://www.trolltours.com.au/product/design-your-own-ride/
Information about Sydney
Sydney is the state capital of NSW and the most populous city in Australia. It surrounds Port Jackson and extends about 70 km (43.5 mi) on its periphery towards the Blue Mountains to the west, Hawkesbury to the north, the Royal National Park to the south and Macarthur to the south-west. In other words, we can take you on a tour to anywhere in these areas and beyond!
However, Sydney is made up of 658 suburbs, 40 local government areas and 15 contiguous regions (sharing a common border). Residents of the city are known as "Sydneysiders". As of June 2017, Sydney's estimated metropolitan population is 5,230,330 and is home to approximately 65% of the state's population.
https://www.trolltours.com.au/wp-content/uploads/2019/06/Harley-tour-Sydney-Australia-AtuSha1.jpg
1127
750
Kat
https://www.trolltours.com.au/wp-content/uploads/2016/08/logo.png
Kat
2019-06-21 22:48:11
2019-06-21 22:50:08
Atul + Shanu 21.06.19 – Harley tours Sydney Australia