Zen 20.07.19 – Harley ride around Middle Harbour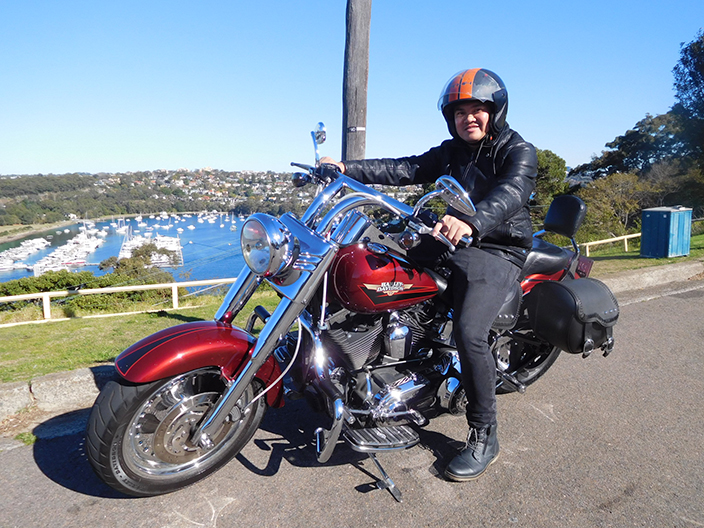 The Harley ride around Middle Harbour was a present for Zen's 28th Birthday. It was from his friend David. Phil picked Zen up from his house in the inner west of Sydney.
the Sydney Harbour Bridge
Firstly, they rode over the Sydney Harbour Bridge. As we always tell our passengers – look up. It's not often you can see the amazing arches from this angle. There is no roof to block the view.
Secondly, they stopped north of the bridge at Kirribilli. It has a wonderful view across Sydney Harbour to the Sydney Opera House. After that, they did the Kirribilli Loop. This means, they rode under the northern section of the Sydney Harbour Bridge so they could look up and see the underneath.
Bradleys Head
They finished the loop by riding past Luna Park and the North Sydney Olympic Pool. Continuing on, they rode down to Bradleys Head. This takes you past the zoo. Often you will see a koala lazily chewing a leaf. Similarly, Bradleys Head has spectacular views across Sydney Harbour.
Balmoral Beach
After that, was the famous Balmoral Beach. A wonderful place to swim with lots of good places to eat as well. However, there was no time to do it on the tour.
Continuing along Military Road, they rode to the Spit lookout. Again, more beautiful views. This one looks onto the bays and waterways of Middle Harbour, the start of the northern beaches.
best birthday present ever
However, the 1.5 hours was almost up. Phil took Zen back to his house. Zen loved the whole experience. In other words, the Harley ride around Middle Harbour was a huge success and one of the best birthday presents ever.
https://www.trolltours.com.au/product/design-your-own-ride/
Some background history
Bradleys Head is a headland protruding from the north shore of Sydney Harbour. Above all, on the headland is an active lighthouse, Bradleys Head Light, constructed in 1905.
Balmoral is named after Balmoral Castle, Scotland. The Promenade along the Esplanade was completed in 1926 in response to the influx of new visitors travelling by tram – no trams there now. However, just be aware, if you drive and park around there, the parking fees are huge.
The Spit Bridge, a steel and concrete girder bridge with a bascule liftspan across the Middle Harbour. The Spit Bridge, completed in 1958, is of state significance. It is a substantial landscape feature that has played a crucial role. For instance, it allowed the development of the northern beaches suburbs to occur over the last 44 years. In addition, the Bridge is also extremely rare as it is the only lift bridge still operational on a major arterial road.

https://www.trolltours.com.au/wp-content/uploads/2019/07/Harley-ride-around-Middle-Harbour-zen1.jpg
528
704
Kat
https://www.trolltours.com.au/wp-content/uploads/2016/08/logo.png
Kat
2019-07-20 19:14:55
2019-07-20 19:15:14
Zen 20.07.19 – Harley ride around Middle Harbour