Dallas + Stacy 31.07.19 – trike tour Eastern Sydney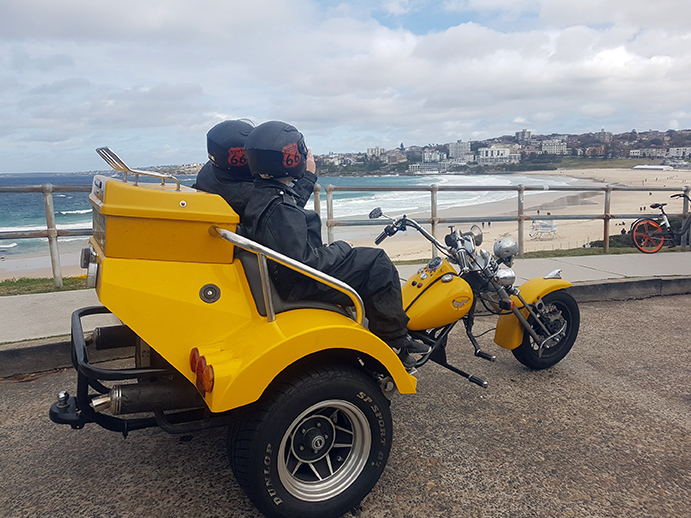 Stacy organised the trike tour Eastern Sydney for his son. Dallas thought it was a great adventure and loved every moment of it.
Woolloomooloo
Craig picked them up from their hotel at the Rocks. Firstly, they rode through the city to Woolloomooloo. This was a slum but has been gentrified – anywhere next to the water is fashionable.
Infamous Kings Cross
Next they rode past the iconic Harry Cafe De Wheels and up into the infamous Kings Cross. It is still very interesting to ride through, with many things to look at. However, it is just not as risque as it was in its heyday.
From Kings Cross they travelled through the posh suburbs of Double Bay and Rose Bay. Some of the gothic architecture dates back to the 1870s. It is very unique and not seen anywhere else in Sydney.
Watsons Bay
They continued on into Watsons Bay. It is home to Doyles restaurant which is famous for its fish and chips. Also, have a look into the famous or you could say infamous 'The Gap'.
Bondi Beach
After that, they rode to the very famous Bondi Beach and stopped for a look at the lovely view. Similarly, they rode south along the eastern Sydney beaches of Tamarama and Bronte.
Centennial Park
However, the 1.5 hours was nearly up so they rode through the huge but lovely Centennial Park. Craig then rode through the city before returning to their hotel. In conclusion, the trike tour Eastern Sydney was a fabulous experience and a very memorable adventure.
https://www.trolltours.com.au/product/design-your-own-ride/
Woolloomooloo is home to the Finger Wharf, known for its remarkable size. It is 400 metres (1,310 ft) long and 63 m (210 ft) wide and stands on 3,600 piles.
The Sydney Harbour Trust built the Finger Wharf, or Woolloomooloo Wharf, between 1911 and 1915 with the charter to bring order to Sydney Harbour's foreshore facilities.
https://www.trolltours.com.au/wp-content/uploads/2019/08/Harley-trike-tour-Eastern-Sydney-DalSta1.jpg
518
691
Kat
https://www.trolltours.com.au/wp-content/uploads/2016/08/logo.png
Kat
2019-08-01 19:06:24
2019-08-01 19:06:43
Dallas + Stacy 31.07.19 – trike tour Eastern Sydney