Allison 31.08.19 – Harley ride transfer Sydney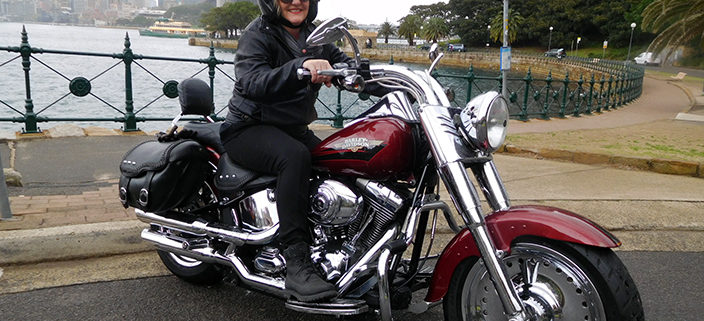 The Harley ride transfer Sydney was a present. Allison's mum bought it for her for her birthday. She was staying in the city and decided it would be a great way to get home.
Sydney Harbour Bridge
Our Harley rider Phil, picked Allison up in the city. Firstly, he rode her over the iconic Sydney Harbour Bridge. It is a wonderful to see from a Harley, there is not much to block your view. The arches are very interesting to look up at as you ride under them. Most importantly, check out the rivets. The bridge is held together by six million Australian-made hand-driven rivets supplied by the McPherson company of Melbourne, the last being driven through the deck on 21 January 1932.
Kirribilli Loop
After that, they stopped at Jeffrey St Wharf. It has wonderful views across Sydney Harbour to the Sydney Opera House. In addition, they finished the Kirribilli Loop route. This takes us under the north side of Harbour Bridge. So, you will see yet another view of the iconic bridge.
Baulkham Hills
Continuing on, they drove through the north western suburbs to Baulkham Hills. In other words, it is certainly a fun way to see a different part of Sydney. Phil dropped Allison off at her destination, to continue celebrating.
In conclusion, the Harley ride transfer Sydney was a huge success. Allison celebrated her birthday in style and with a lot of fun.
https://www.trolltours.com.au/product/design-your-own-ride/
The Sydney Harbour Bridge is a heritage-listed steel through arch bridge across Sydney Harbour that carries rail, vehicular, bicycle, and pedestrian traffic between the CBD and the North Shore. In other words, the dramatic view of the bridge, the harbour, and the nearby Sydney Opera House is an iconic image of Sydney, and Australia itself. The bridge is nicknamed "The Coathanger" because of its arch-based design.
https://www.trolltours.com.au/wp-content/uploads/2019/09/Harley-ride-transfer-Sydney-All1.jpg
528
704
Kat
https://www.trolltours.com.au/wp-content/uploads/2016/08/logo.png
Kat
2019-09-01 17:06:26
2019-09-01 17:07:14
Allison 31.08.19 – Harley ride transfer Sydney