Clair + Dave 07.10.19 – trike tour transfer surprise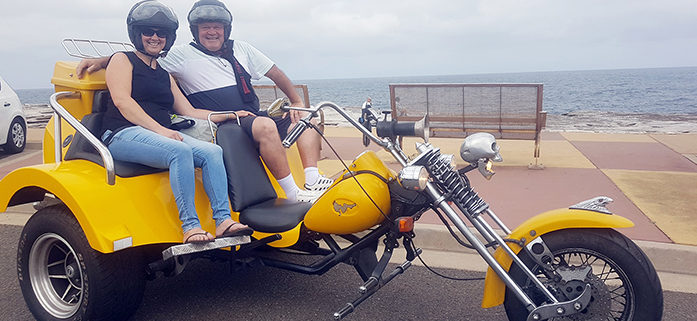 Dave organised the trike tour transfer surprise for his wife. She received a surprise that's for sure! A great one as Dave wrote to us later.
Bondi to Coogee walk
They are from the Central Coast, north of Sydney. They caught the train to Sydney and did the Bondi to Coogee walk. Dave figured they'd be too tired to walk back.
Coogee and Clovelly
So Craig picked them both up at Coogee Pavilion, Coogee. Firstly they rode to north to Clovelly, both are part of eastern suburbs of Sydney.
Centennial Park and Mrs Macquarie's Point
From there, Craig rode through the lovely Centennial Park. This led them to Oxford Street, famous as the route of the annual Mardi Gras Parade. After that, they rode to Mrs Macquarie's Point. In addition, it is where Mrs Macquarie's Chair is located. If there is time, you can have a quick walk down to it. There was no time today.
Sydney Harbour Bridge
Continuing on, they rode over the iconic Sydney Harbour Bridge to Jeffrey Street Wharf in Kirribilli. In addition, it has wonderful views across Sydney Harbour towards the Sydney Opera House and the CBD. A view we never tire of. In addition, it also has an up-close view of the side and underneath of the bridge.
Milsons Point
However, time was up so Craig dropped them both off at Milsons Point. Then they could catch a train back home. In conclusion, the trike tour transfer surprise was a huge success. Above all, they both had fun experience which they will always remember.
Testimonial
Dave wrote to us:
"Thank you Craig for giving us a great arvo out on the trike. We loved it and will recommend you to anyone seeking a fun experience in the city.. Fantastic."
https://www.trolltours.com.au/product/design-your-own-ride/
There is so much history in Sydney, for instance, Centennial Park was originally a swamp and then set aside as land for the water source for Sydney, Centennial Park was reconstructed as a public park and opened in 1888. Sir Henry Parkes' vision was to create a 'People's Park' in which the citizens of Sydney could 'take in the air' away from the Sydney town centre. Read more about Centennial Park here:
https://www.centennialparklands.com.au/visit/history-and-heritage
https://www.trolltours.com.au/wp-content/uploads/2019/10/Harley-trike-tour-transfer-surprise-ClaDav1.jpg
523
697
Kat
https://www.trolltours.com.au/wp-content/uploads/2016/08/logo.png
Kat
2019-10-12 16:00:04
2019-10-12 16:00:20
Clair + Dave 07.10.19 – trike tour transfer surprise