Janine 01.11.19 – Harley 60th birthday present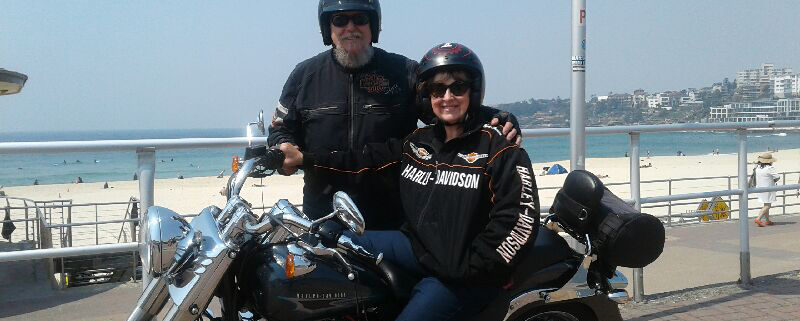 Janine's daughter organised the Harley 60th birthday present. Janine had always wanted to ride on a Harley. Her late husband used to ride bikes but she never had the chance. he was born and bred and still lives in Newcastle, just north of the central coast.
Rushcutters Bay
She has been to Sydney before so it wasn't a totally new city to her. Jungle picked her up from her hotel in Rushcutters Bay. They discussed the route for the Harley tour. Watsons Bay and Bondi Beach were her choice to ride through.
So they did a loop through parts of the Eastern Suburbs. From Rushcutters Bay they rode through Edgecliff and Rose Bay. Water views from here are nice across the most eastern section of Sydney Harbour.
Watsons Bay and The Gap
Next they rode through Vaucluse and into Watsons Bay. Watsons Bay, famous for a fish and chips restaurant. In addition, it is home to and 'The Gap' where they stopped for a look and photos. The Gap is a well known place for suicides in Australia.
Bondi Beach life guard tower
Jungle then continued the ride down to the famous Bondi Beach. Riding past the beach really does turn heads. Moreover, they stopped at the Bondi Beach life guard tower for photos. Famous for the TV program Bondi Rescue. The photo is of Janine and our Harley rider Jungle.
Kings Cross
In addition, Jungle rode through Kings Cross. Janine wanted to see how much it had changed from years ago. It has, it is very residential now. Not the risque red light district it used to be though it is still interesting.
However, the hour was now up so Jungle rode through Woolloomooloo to take her back to her hotel. He was stopped for a breathalyser test. He passed with flying colours because we have a no drink and ride policy.
In conclusion, the Harley 60th birthday present was a huge success. A very memorable and fun experience.
https://www.trolltours.com.au/product/design-your-own-ride/
https://www.trolltours.com.au/wp-content/uploads/2019/11/Harley-60th-birthday-present-Jan1JPG.jpg
450
800
Kat
https://www.trolltours.com.au/wp-content/uploads/2016/08/logo.png
Kat
2019-11-10 15:18:55
2019-11-10 15:19:30
Janine 01.11.19 – Harley 60th birthday present