Cathy + Kellee 07.12.19 – surprise birthday trike transfer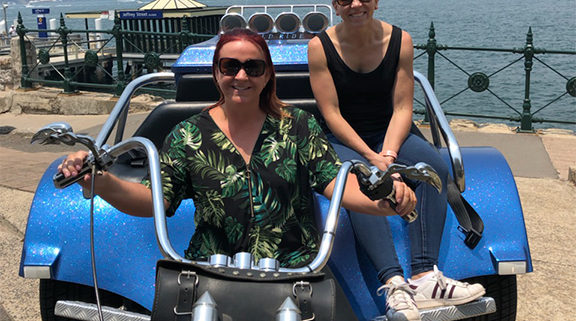 Cathy organised a surprise birthday trike transfer for herself and her bestie. It was a fantastic surprise and a huge success! Cathy was so organised that she started organising the surprise birthday trike transfer 3 months before the ride! We love people who are very organised (we also love those who aren't.?).
Elderslie, southwest of Sydney
Our trike rider Brian, on a blue trike, picked up our passengers from Elderslie. Elderslie is approx 70kms southwest of Sydney. Usually we can pick up from anywhere in the outer Sydney area. Just ask us for ideas of routes, in other words, we are sure we can help you out.
Kirribill, Sydney Harbour.
So, Brian picked them up from Elderslie, in the south west of Sydney. They rode through so many suburbs of western Sydney. It made for a very interesting ride.
He wanted to make the transfer (tour) interesting, so he took the passengers to Kirribilli. Kirribilli is on the north side of Sydney Harbour.
The view from here is amazing. The haze you can see behind our passengers is because of the fires. The fires are a few hundred kilometres north of Sydney. We are really upset and worried about the fires. There are roughly 100 fires as we type but, more start regularly. This is unprecedented. ?
Sydney Harbour Bridge
After this, they rode over the Sydney Harbour Bridge. However, look up and enjoy the view most people don't have. There is no roof to block your view!!

Unfortunately, time was up so Brian dropped our passengers off at The Rocks. Cathy had organised a surprise lunch for Kellee and herself. What a great present!! In conclusion, the surprise birthday trike transfer was a huge success. A present that will always be remembered – for the good times!

https://www.trolltours.com.au/product/design-your-own-ride/
The Rocks is a neighbourhood of historic laneways in the shadow of Sydney Harbour Bridge. Locals and tourists mingle at the open-air Rocks Markets, purchasing street food and handmade fashions. The area has some of Sydney's oldest pubs and many of the upscale restaurants have harbour views. The Museum of Contemporary Art offers local and international exhibits. Buskers perform along the busy harbourfront promenade.
https://www.trolltours.com.au/wp-content/uploads/2019/12/Harley-surprise-birthday-trike-transfer-CaKe1.jpg
665
576
Kat
https://www.trolltours.com.au/wp-content/uploads/2016/08/logo.png
Kat
2019-12-09 23:15:15
2021-10-05 11:13:52
Cathy + Kellee 07.12.19 – surprise birthday trike transfer