Patryk 25.01.20 – north shore Harley tour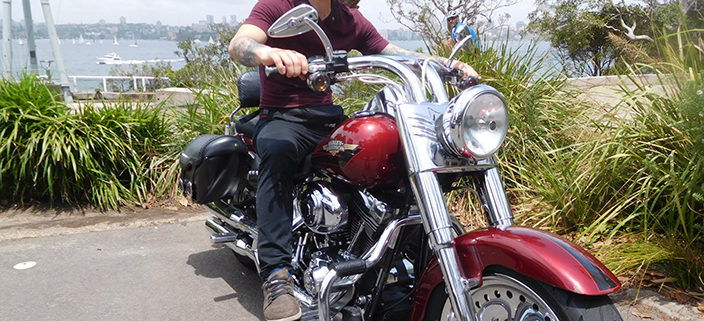 Our passenger was half of a young Polish couple. They are in Australia on a working holiday. Patryk was so excited about doing the north shore Harley tour. It was postponed a couple of times due to the weather (smoke or rain) but finally the time came.
Sydney Harbour Bridge
Our Harley rider Phil picked Patryk up from their home in the inner suburbs of Sydney. Firstly, they rode over the Sydney Harbour Bridge. Driving over it is an experience with a view that we never ever tire of. We always tell our passengers to look up and enjoy the unique view. The rivets are so interesting and the arch is so iconic.
Secondly, they stopped at Jeffery Street Wharf for photos. From here, the views across Sydney Harbour towards the Sydney Opera House and the CBD are magnificent. In addition, it also has a up-close view of the side and underneath of the bridge.
The Kirribilli Loop
They rode under the north side of the bridge and continued on their tour. The underside of the northern end of the SHB – Sydney Harbour Bridge – is very interesting.
The Kirribilli Loop was finished by riding past Luna Park and the North Sydney Olympic Pool. They continued on through the lower north shore suburbs of Cremorne, Mosman, past Taronga Park Zoo to Bradleys Head. Make sure you look for the koalas eating or sleeping in the gum trees.
Bradleys Head and Balmoral Beach
Similarly, Bradleys Head has wonderful views across Sydney Harbour to the Sydney Opera House, Harbour Bridge and the CBD.
Continuing on, they rode past the lovely posh Balmoral Beach. However, the 1.5 hours was almost up. So, Phil turned around and they drove a different route back into Sydney. They rode through the city and back home.
In conclusion, the north shore Harley tour was a great experience:
Testimonial
Hello,
He totally loved it. Thanks a lot for an amazing experience 🙂 and photos. 

Of course you can post those photos. 
All the best 
Monika
https://www.trolltours.com.au/product/design-your-own-ride/
https://www.trolltours.com.au/wp-content/uploads/2020/01/north-shore-Harley-tour-Pat1.jpg
528
704
Kat
https://www.trolltours.com.au/wp-content/uploads/2016/08/logo.png
Kat
2020-01-27 19:43:52
2020-01-27 19:44:53
Patryk 25.01.20 – north shore Harley tour