Brad + Nikki 02.02.20 – Bondi Beach Harley tour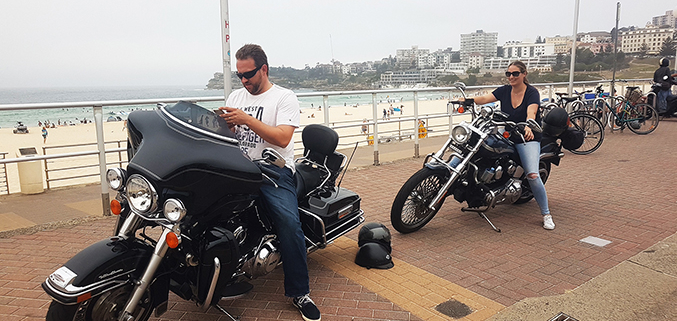 Troll Tours
The Bondi Beach Harley tour was a surprise from Nikki, for his 40th birthday. They were staying in Sydney to celebrate his birthday and what better way, than on a Harley!
So, our riders Craig and Perry picked them up from their hotel. Firstly they rode through the city to the now posh Woolloomooloo, home to Harry's Cafe De Wheels and Finger Wharf. This leads through the infamous Kings Cross. It is not nearly as raunchy as it used to be but still worth a look.
Paddington
Next, it was into the lovely suburb of Paddington. There are lots of quaint, old buildings and we agree, it is a lovely, older area of Sydney. This is one of the gateways to the eastern beaches.
Bronte and Tamarama Beaches
Next, they continued south past the lovely but not as famous as Bondi, Tamarama Beach and Bronte Beach.
Bondi Beach
They stopped at the famous Bondi Beach, when in Sydney it is one of the places you should visit. The beach is seriously nice (but not our favourite) and we usually stop near the lifeguard station, made famous by the TV series "Bondi Rescue". Bondi Beach is one of the most visited tourist sites in Australia.
posh eastern suburbs
Riding back around the posh eastern suburbs of the inner harbour is always nice. Vaucluse, Rose Bay, Double Bay and Rushcutters Bay follow Sydney Harbour coastline.
However, time was almost up so they rode through the city and back to their hotel. In conclusion, the Bondi Beach Harley tour was a huge surprise and a great success. A birthday Brad will never forget!
https://www.trolltours.com.au/product/the-city-viewer/
Bondi Beach has a few different hazard ratings therefore, be careful if swimming there. While the northern end has been rated a gentle 4 (with 10 as the most hazardous), the southern side is rated as a 7 due to a famous rip current known as the "Backpackers' Rip" because of its proximity to the bus stop, the fact that many backpackers and tourists do not realise that the flat, smooth water is a rip, and quite dangerous, and the unwillingness of tourists to walk the length of the beach to safer swimming. The south end of the beach is generally reserved for surfboard riding. Yellow and red flags define safe swimming areas, and visitors are advised to swim between them.
https://www.trolltours.com.au/wp-content/uploads/2020/02/Bondi-Beach-Harley-tour-BraNik1.jpg
508
677
Kat
https://www.trolltours.com.au/wp-content/uploads/2016/08/logo.png
Kat
2020-02-05 11:08:02
2020-02-05 11:08:44
Brad + Nikki 02.02.20 – Bondi Beach Harley tour