Lisa + Rob 26.02.20 – northern and eastern Harley tour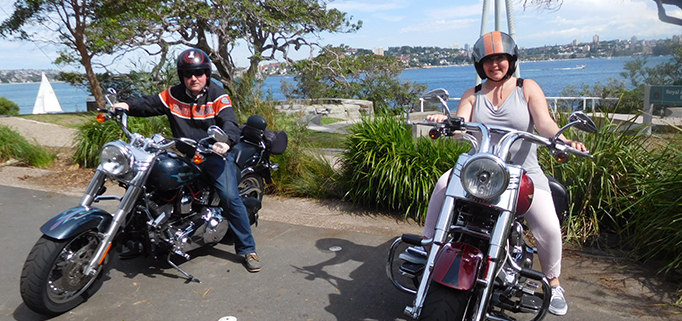 Troll Tours
A couple of English horse judges were invited to Australia to judge at some competitions. They were only in Sydney for 48 hours so wanted to see as many sights as they could. We organised the northern and eastern Harley tour for them and they loved it!
Our Harley riders, Jungle and Phil, picked them up from their hotel in the city. Everyone was excited to do the 2 hour Harley ride. Firstly, they rode through the Sydney CBD and over the Sydney Harbour Bridge.
Iconic Sydney Harbour Bridge
We always tell our passengers to look up and enjoy the unique view. The view of the arches is fantastic without a metal roof over your head. Surprisingly, the rivets are interesting and the arch is so iconic. More than 6,000,000 rivets were used to assemble the various plates on the bridge.
Kirribilli
Next, after riding across the Harbour Bridge they rode past Kirribilli House. Kirribilli House is the secondary official residence of the Prime Minister of Australia. After that, they rode around the corner to Jeffrey Street Wharf. From here, the views across Sydney Harbour towards the Sydney Opera House and the CBD are magnificent. In addition, it also has an up-close view of the side and underneath of the bridge.
The Kirribilli Loop
They rode under the north side of the bridge and continued on their tour. The underside of the northern end of the SHB – Sydney Harbour Bridge – is very interesting. The Kirribilli Loop was finished by riding past Luna Park and the North Sydney Olympic Pool.
lower North Shore suburbs
Continuing north east, the rode through Cremorne, Mosman and down past the Zoo to Bradleys Head. Make sure you look for the koalas eating and sleeping in the gum trees.
Bradleys Head and Balmoral Beach
Similarly, Bradleys Head has wonderful views across Sydney Harbour to the Sydney Opera House, Harbour Bridge and the CBD. Continuing on, they rode past the lovely posh Balmoral Beach. Everyone who comes here loves it!
But, then it was time to turn around and explore some of the inner eastern areas. So, it was back over the Sydney Harbour Bridge to the city before taking a spin around Mrs Macquarie's Point. The views of the Sydney Opera House with the Harbour Bridge as a back drop, is like none in the world – just gorgeous. Fort Denison on Pinch Gut Island can also be seen in Sydney Harbour. After tearing themselves away from the view, they got back on the Harley and rode through Woolloomooloo. This led past the iconic Harry's Cafe De Wheels and up into the infamous Kings Cross. It is not nearly as raunchy as it used to be but still very interesting indeed!
However, time was nearly, seriously, the 2 hours goes so quickly! In conclusion, the northern and eastern Harley tour was a huge success. Before we even got a chance to send a follow up email, Rob wrote:
Testimonial
"My wife and I have just got back from the most awesome tour of Sydney this afternoon riding with Phil and Jungle. Out for 2 hours, shown the sights and best photo spots, excellent commentary and local knowledge. Wish we'd booked for longer. Very reasonably priced, fantastic, safe, experienced motorcyclists who made us feel welcome and considered from start to end. Cannot recommend highly enough. Thanks so much".
https://www.trolltours.com.au/product/design-your-own-ride/
https://www.trolltours.com.au/wp-content/uploads/2020/03/northern-and-eastern-Harley-tour.jpg
511
682
Kat
https://www.trolltours.com.au/wp-content/uploads/2016/08/logo.png
Kat
2020-03-01 19:43:37
2020-03-01 19:44:05
Lisa + Rob 26.02.20 – northern and eastern Harley tour