Surprise 18th Harley ride – Charlotte 30.05.20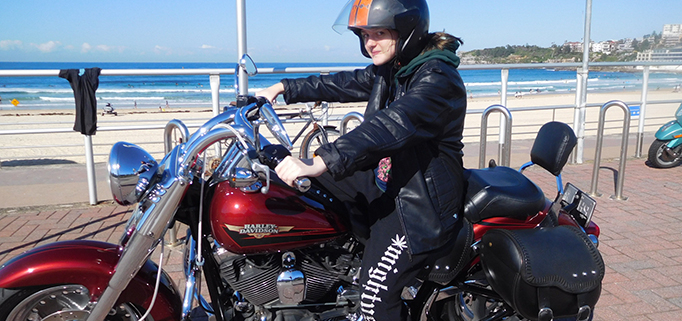 Troll Tours
Charlotte's surprise 18th Harley ride was organised by her parents. The original day was too wet so we postponed it to today, the weather was perfect. However, by now it wasn't a surprise because they had to get Charlotte to the pick up point.
Our Harley rider Phil picked her up from the Hyde Park Inn, her dad is the manager there. Firstly, they rode over the Sydney Harbour Bridge. We always tell our passengers to look up and enjoy the unique view. The more than 6,000,000 rivets are so interesting and the arch is so iconic.
Kirribilli
Next, after riding across the Harbour Bridge they rode past Kirribilli House. Kirribilli House is the secondary official residence of the Prime Minister of Australia. After that, they rode around the corner to Jeffrey Street Wharf. From here, the views across Sydney Harbour towards the Sydney Opera House and the CBD are magnificent. In addition, it also has an up-close view of the side and underneath of the bridge.
The Kirribilli Loop
They rode under the north side of the bridge and continued on their tour. The underside of the northern end of the SHB – Sydney Harbour Bridge – is very interesting. The Kirribilli Loop was finished by riding past Luna Park and the North Sydney Olympic Pool.
Eastern Sydney Beaches
Then, it was back over the bridge to the Eastern Suburbs. They were going to ride through Centennial Park but it is still closed to traffic. So, they continued on to the eastern beaches of Sydney. Starting from the south and heading north, they rode past Bronte, past the little and secluded Tamarama Beach and the most famous, Bondi Beach. As you can see in the photo, it is still very quiet on the beach though plenty of people are in swimming.
They stopped at the famous Bondi Beach for photos, when in Sydney it is one of the places you should visit. The beach is seriously nice (but not our favourite) and we usually stop near the lifeguard station, made famous by the TV series "Bondi Rescue". Bondi Beach is one of the most visited tourist sites in Australia.
Eastern Suburbs
However, the 1.5 hours was almost up. So Phil and Charlotte rode back down Old South Head Road and back along the posh eastern suburbs of the inner harbour. It is always a nice view through Vaucluse, Rose Bay, Double Bay and Rushcutters Bay because it follows the Sydney Harbour coastline.
This led into the infamous red light district of Kings Cross. In its heyday it was the home of the drug lords and the Australian version of the mafia. Not so much any more. Down the hill into Woolloomooloo and past Finger Wharf. So the adventure of a lifetime was just about over. Phil rode Charlotte back to Hotel and dropped her off.
In conclusion, the surprise 18th Harley ride tour was a great success. One of the best birthday presents ever!
https://www.trolltours.com.au/product/design-your-own-ride/
https://www.sydney.com/destinations/sydney/sydney-east/bondi/beach-lifestyle
https://www.trolltours.com.au/wp-content/uploads/2020/05/Surprise-18th-Harley-ride-Char1.jpg
511
682
Kat
https://www.trolltours.com.au/wp-content/uploads/2016/08/logo.png
Kat
2020-05-30 17:46:41
2020-05-31 16:13:39
Surprise 18th Harley ride – Charlotte 30.05.20