Mini trike transfers Sydney – Mardi Gras Party 23.02.20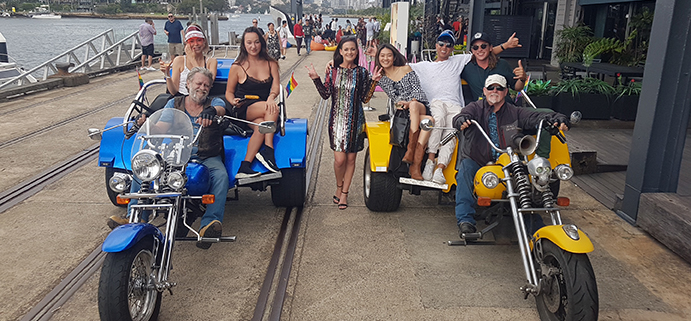 Troll Tours
Mini trike transfers Sydney testimonial:
"I recently booked Troll Tours for a corporate event and they were fantastic. The riders were great, the trike were immaculate and over all they added so much fun to the event. Troll were an absolute dream to work with, highly recommend them!" Rach.
It is the annual Mardi Gras time of year in Sydney. We were contacted by an organiser of a Mardi Gras Party. She wanted mini trike transfers Sydney. Yes, we sure could arrange that. Two of our trike riders, Craig and Steve, were to take passengers from one end of Jones Bay Wharf, Pyrmont to the other. Above all, the party goers absolutely loved the experience, it did save their feet from getting sore. ?
Craig and Steve were early as usual. We asked them to meet Rachel, the organiser, early so she could brief them. Once they knew exactly what they were to do, they got to it. Later, our riders told us they loved the job. Great people and it wasn't stressful (no traffic) ?.
They rode up and down Jones Bay Wharf doing the mini trike transfers Sydney. It was a hit with the passengers as you can see by the two photos. However, the four hours was over very quickly. After that, at the end of the booked time, our trike riders took some special VIPs back to their hotel. The mini trike transfers Sydney was such a success, they are going to book us again next year!
Sydney Gay & Lesbian Mardi Gras 2020
This Saturday over 12,600 dazzling parade participants will sashay their way up Oxford Street. It is the 42nd annual Sydney Gay and Lesbian Mardi Gras Parade! This year the theme is WHAT MATTERS. 91 diverse floats, each taking their own unique take on the festival's theme WHAT MATTERS. Similarly, the Parade promises to be a stunning display of celebration, passion and support. Apparently, it is to draw attention to climate and sustainability.
History
The event grew from gay rights parades held annually since 1978. However, for years, numerous participants had been arrested by New South Wales Police. Now, the Mardi Gras Parade maintains a political flavour. Many marching groups and floats promote LGBTQI rights issues or themes. In other words, it reflects changes since the first Sydney Gay & Lesbian Mardi Gras, participants in the Mardi Gras Parade now include uniformed groups. Uniformed Australian Defence Force personnel, police officers from New South Wales State Police. In addition, there are interstate and federal police officers, firefighters and other emergency services personnel from the Australian LGBTQI communities.
WorldPride
In 2019 Sydney Gay & Lesbian Mardi Gras submitted a bid to host WorldPride 2023. It competed against Montreal, Canada and Houston, Texas. InterPride, at their October 2019 Annual General Meeting . There were three hundred delegate organisations, and the AGM was held in Athens, Greece. The AGM chose Sydney, Australia! We are to host WorldPride 2023 – the first time WorldPride will be held in the Southern Hemisphere or Asia Pacific region!
Bushfire Heroes
The heroes from the frontline of the recent bushfires will also come together. They will be celebrated on Parade night. LGBTQI+ community members and their allies from the NSW Rural Fire Service, Fire and Rescue NSW and the NSW State Emergency Services. Proudly take to Oxford Street in a symbol of unity for their LGBTQI + members and the community.  
https://www.trolltours.com.au/product/design-your-own-ride/
https://www.trolltours.com.au/wp-content/uploads/2020/02/Harley-Mardi-Gras-Party-MGP1.jpg
518
691
Kat
https://www.trolltours.com.au/wp-content/uploads/2016/08/logo.png
Kat
2020-07-05 19:20:43
2020-07-05 19:21:48
Mini trike transfers Sydney – Mardi Gras Party 23.02.20