Broken Bay trike tour – Rafael + Pablo 11.07.20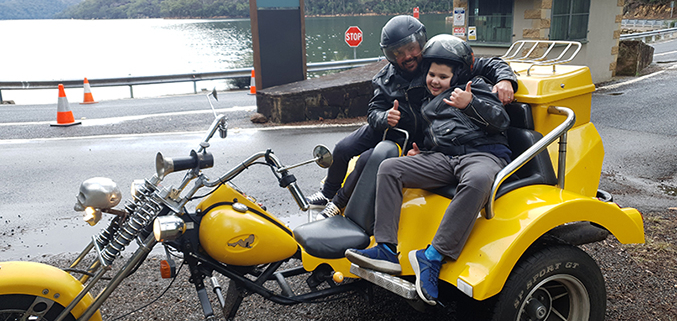 Troll Tours
Pablo has autism and is very set in his ways. He loved the trike ride! Rafael (the father) wrote after the Broken Bay trike tour:

"Thanks for the ride today ??
Pablo is one happy child."
Rafael
Rafael's son Pablo, loves bikes so Rafael and his wife organised the Broken Bay trike tour. Actually, they didn't mind where they went. Craig, our trike rider, knows the northern beaches area of Sydney extremely well. He planned the ride route at the pick up. Our tours are all so flexible. Pablo has autism so the trike is a good way to make him feel safe and secure.
Northern Sydney suburbs
So, Craig picked the passengers up from home in St Ives. Firstly they rode down Mona Vale Road, then through the back of Terry Hills. This in turn, joins Mc Carr's Creek Road.
Akuna Bay
Which leads down as far as Akuna Bay. Akuna Bay, tucked away at the end of Coal and Candle Creek. Superb birdlife and some animals such as kangaroos, can sometimes be seen. Akuna Bay is inside Ku-ring-gai Chase National Park. Located in Sydney's north, Ku-ring-gai Chase National Park combines important history with scenic beauty, making it perfect for tours. Also, Bobbin Head is a great place for a family picnic, and parts of the park are ideal for cycling, fishing and bushwalking.
Duffys Forest
They then continued onto Duffys Forest. Duffys Forest is named after Patrick Duffy, who received a land grant there in 1857. He became a timber cutter and cleared a road through the bush to Cowan Creek, where he built a stone wharf for transporting timber. The wharf is still known as Duffys Wharf and the road is Duffys Track.
St Ives
The St Ives area was first explored by Governor Arthur Phillip and a party of men in 1788 where they set up a campsite. The area produced a small scale timber felling industry. There are still some examples of the thirty metre and higher trees. In nearby Pymble in the Dalrymple Hay forest and near Canisius College. Native turpentine trees were also once abundant and provided useful timber for cabinet making. It was once known for its apple orchards but due to residential demand, there is no longer any commercial fruit growing in the area
However, the hour was almost up so they turned around and rode back home to St Ives. In conclusion the Broken Bay trike tour was a huge success. Both passengers had such a fun time as you can see by the photo.
https://www.trolltours.com.au/product/design-your-own-ride
https://www.nationalparks.nsw.gov.au/visit-a-park/parks/kuringgai-chase-national-park
https://www.trolltours.com.au/wp-content/uploads/2020/07/Broken-Bay-trike-tour-RafSon1-.jpg
508
677
Kat
https://www.trolltours.com.au/wp-content/uploads/2016/08/logo.png
Kat
2020-07-25 17:14:36
2020-07-25 17:15:59
Broken Bay trike tour – Rafael + Pablo 11.07.20