20th anniversary trike transfer – Cass, Jon + Co 05.09.20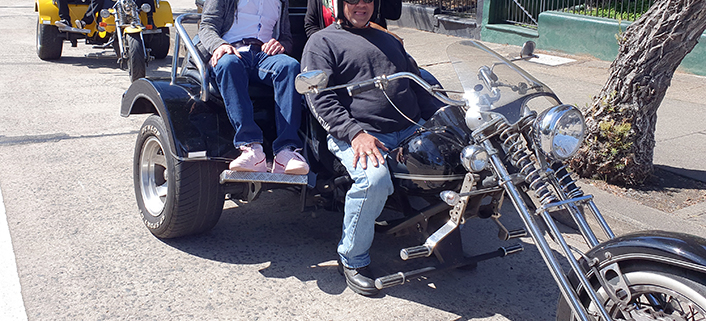 Troll Tours
Cass emailed us to organise the 20th anniversary trike transfer. This is the third time she has been on a trike ride with us. Max and Cass are celebrating their 20th wedding anniversary and how much better it is to celebrate in style. ? Cass's parents came along as well, we always say "the more the merrier".
Our trike riders Craig and Syl, picked them up from their home in Sydenham, an inner western suburb of Sydney. Firstly, they rode through the hip inner west suburb of Newtown. They rode along Kings Street as requested by our passengers. Kings Street is a very interesting street, full of interesting people and shops.
Sydney Harbour Bridge
Continuing on, they rode through the Sydney CBD and Macquarie Street (home to a majority of medical specialists). Next, they rode over the iconic Sydney Harbour Bridge. We always tell our passengers to look up and enjoy the unique view. The more than 6,000,000 rivets are so interesting and the arch is so iconic.
Kirribilli
Next, after riding across the Harbour Bridge, they rode past Kirribilli House. Kirribilli House is the secondary official residence of the Prime Minister of Australia.
After that, they rode around the corner to Jeffrey Street Wharf. From here, the views across Sydney Harbour towards the Sydney Opera House and the CBD are magnificent. In addition, it also has an up-close view of the side and underneath of the bridge.
The Kirribilli Loop
They rode under the north side of the bridge and continued on their tour. The underside of the northern end of the SHB – Sydney Harbour Bridge – is very interesting.
The Kirribilli Loop was finished by riding past Luna Park and the North Sydney Olympic Pool. So far, the 20th anniversary trike transfer was a lot of fun, and was the whole time. However, after a brief stop to check out the views, and to take photos, we headed back over the bridge to Surry Hills. The drop off was at Sydney Brewery in Albion Street. 20 years together is definitely worth celebrating!
In conclusion, the 20th anniversary trike transfer was a huge success. Everyone, including the riders, had a great time. "Feel the freedom!"
https://www.trolltours.com.au/product/design-your-own-ride/
https://www.theaustralianafund.org.au/houses/kirribilli-house.html
https://www.trolltours.com.au/wp-content/uploads/2020/09/Harley-20th-anniversary-trike-transfer-Cass1.jpg
530
706
Kat
https://www.trolltours.com.au/wp-content/uploads/2016/08/logo.png
Kat
2020-09-06 18:13:42
2020-09-06 18:14:43
20th anniversary trike transfer – Cass, Jon + Co 05.09.20