Aged disability trike ride – Barry 14.09.20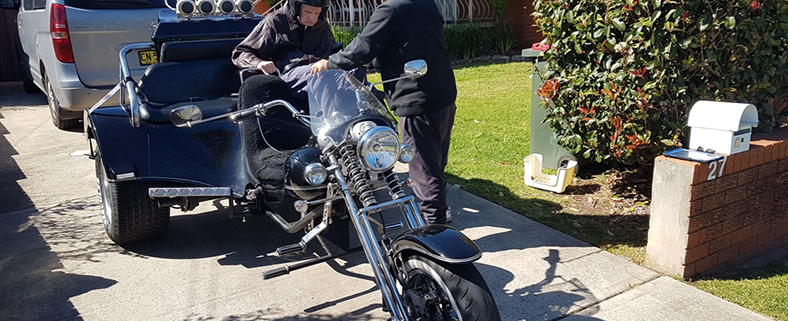 Troll Tours
A team leader contacted us about doing an aged disability trike ride, for one of their residents. He was turning 70 and had always wanted to go on a Harley. With his level of disability he can't go on a Harley but the trike is just as fun. Barry needed to have a carer with him so the trike is perfect for the two of them.
Design your own tour – ride around the area
Our rider Syl arrived before the organised pick up time. Our riders will pick up just about anywhere so we picked Barry up from his group home. It took a while to get Barry on to the trike but eventually they did and off they went. The trike ride was for one hour so the rider took them for a ride around the area. The time frame starts from the pick up point. As this pick up was in the western suburbs of Sydney, there are not many sights to see.
"feel the freedom"
However, this aged disability trike ride, like most of our tours, was more about the experience than the actual sights. It's all about "feeling the freedom".
https://www.trolltours.com.au/product/design-your-own-ride/
One of our most popular rides is the 3 Bridges tour.
Sydney's Bridges
Actually, five bridges cross the harbour: the Sydney Harbour Bridge, the ANZAC Bridge, the Gladesville Bridge, the Ryde Bridge, and the Silverwater Bridge. However, on our 3 Bridges ride we take you over 3 of these bridges. Also included are a couple of minor bridges. Most Sydneysiders don't know these minor bridges but all bridges have spectacular views!

A secret reef
We can't actually take you here but we think this is interesting. An unpublished NSW government report, reportedly, has mapped a secret reef in the harbour. Also, marine scientists have been examining the little known coral reefs of Sydney to try and understand more about coral survival. Mangroves are often known as 'nurseries of the sea' for the role they play in supporting small fish and other marine creatures.

Mangroves are an extremely important part of Sydney's waterways.
Source: UNESCO https://es.unesco.org/node/293694
https://www.trolltours.com.au/wp-content/uploads/2020/09/Harley-Aged-disability-trike-ride-Ba1.jpg
444
788
Kat
https://www.trolltours.com.au/wp-content/uploads/2016/08/logo.png
Kat
2020-09-16 13:51:00
2020-09-16 13:53:24
Aged disability trike ride – Barry 14.09.20