Anniversary roses trike ride – Badiah + Kalid 08.10.20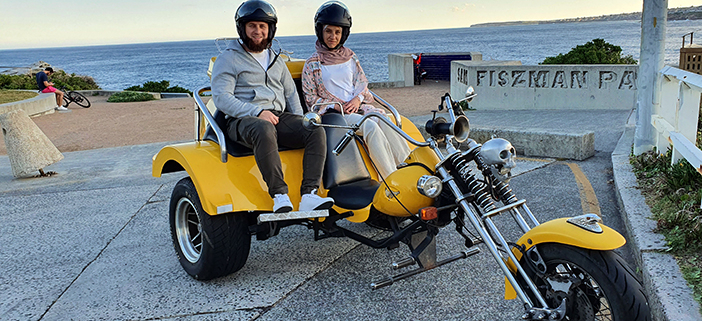 Troll Tours
Kalid bought the surprise anniversary roses trike ride from us. After organising it Kalid asked us for ideas on what special thing we can do. As they don't drink, we organised a bunch of red roses. Craig, out trike rider picked them up on the way to the ride. During the ride he pulled them out of the trike boot and Kalid could surprise Badiah with them. All in all, it was a great surprise and very special and memorable anniversary.
We had organised to meet at Circular Quay. It's a central spot and an easy place for the trike to stop safely. Having said that, we will pick up almost anywhere but remember, the time booked starts from when we pick up. An email of a map and instructions of where to meet makes it easy for our passengers to find us.
Finger Wharf and the infamous Kings Cross
Firstly, they rode past Finger Wharf and the iconic Harry's Café De Wheels which is always interesting. Harry's Café de Wheels has been serving customers for over 80 years. They make delicious pies, hotdogs and more. It is in the inner eastern suburb of Woolloomooloo. This leads up into the infamous Kings Cross – home of the famous and huge Coca Cola sign. Kings Cross is also home to nightclubs and ladies of the night though it is not nearly as raunchy as it was in the 1970s (apparently). Already, our passengers were enjoying the anniversary roses trike ride.
north headland of Bondi Beach – quite romantic
Continuing on, they rode through the posh eastern suburbs of Rushcutters Bay, Double Bay, Rose Bay and Vaucluse. They had a look at Bondi Beach and stopped for photos and to see the view from the north headland. It looks down the coastline and to Bondi Beach and is very romantic.
However, the 1 hour was almost up so Craig headed back into Sydney on a different route. Returning to Circular Quay was via William St and Macquarie Street taking in St Mary's Cathedral on the way. He dropped them back at Circular Quay. In conclusion, the anniversary roses trike ride was a huge success – a pleasant surprise and quite a romantic experience for an anniversary.
https://www.trolltours.com.au/product/design-your-own-ride/
Sam Fiszman Park
Sam Fiszman, born in Warsaw, Poland,in 1926 migrated to Australia after his parents were killed during World War 2. A successful business man and campaign fundraiser for the Labour Party, his many achievements include contributions to the North Bondi SLSC. He was awarded the OAM in 1981 and the AM in 2000 and passed away in 2002. http://postcardsydney.com/sam-fiszman-park-north-bondi/
Ben Buckler Point
It is sometimes referred to simply as "the northern headland of Bondi Bay."
Ben Buckler Point is the location of the heritage-listed Ben Buckler Gun Battery, which was built in 1892 and subsequently buried. Later, it was excavated by the NSW Water Board and then reburied. It is also the location of the heritage-listed Bondi Sewer Vent.
https://www.trolltours.com.au/wp-content/uploads/2020/10/Anniversary-roses-trike-ride-BadKal1.jpg
527
702
Kat
https://www.trolltours.com.au/wp-content/uploads/2016/08/logo.png
Kat
2020-10-09 11:28:09
2020-10-09 11:35:28
Anniversary roses trike ride – Badiah + Kalid 08.10.20