surprise Beach Beauty tour – Daryl + Leonie 13.10.20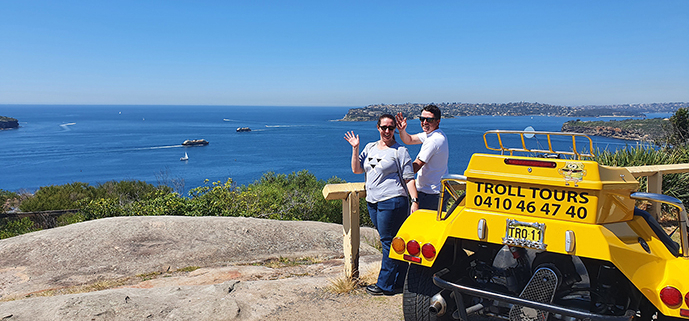 Troll Tours
Leonie and Daryl came to Sydney for a short holiday, from northern NSW. Leonie contacted us two days before they set off. She wanted to organise a surprise Beach Beauty tour for her husband. We found out all the information we needed and organised a trike rider. We can't always do it with such short notice but usually we can. It's worth asking us.
Sydney Harbour Bridge
Our trike rider Craig, met them at their hotel in the Sydney CBD. Firstly, they rode around The Rocks, Sydney's oldest historical area, located directly under the Sydney Harbour Bridge, in the centre of the city.
Next, they rode across the iconic Sydney Harbour Bridge. We always tell our passengers to look up and enjoy the unique view. The more than 6,000,000 rivets are so interesting and the arch is so iconic. This lead to Jeffrey Street Wharf in Kirribilli. From here, the views across Sydney Harbour towards the Sydney Opera House and the CBD are magnificent.
The Kirribilli Loop
They rode under the north side of the bridge and continued on their tour. The underside of the northern end of the SHB – Sydney Harbour Bridge – is very interesting. The Kirribilli Loop was finished by riding past Luna Park and the North Sydney Olympic Pool.
Taronga Zoo and Georges Head
Driving along the backroads of the inner north shore, they rode past Taronga Zoo. If you are lucky, you can see koalas eating and sleeping in their enclosure. This road stops at Bradleys Head, another place with wonderful views across the harbour to the Opera House and Sydney CBD.
Riding further along, they stopped at George's Head. Leonie and Daryl got off the trike and walked down to point to take photos. So far, the surprise Beach Beauty tour was a success. Continuing on, they rode past the lovely posh Balmoral Beach. Everyone who comes here loves it! Crossing the Spit Bridge was next, this is always fun. The lovely views of Middle Harbour and hundreds of yachts are hard to forget.
The Spit, Tania Park and Arabanoo lookout on Dobroyd Head
Then into the northern beaches suburbs of Seaforth and Clontarf before stopping off at Tania Park. Arabanoo lookout at Dobroyd Head offers fantastic views over to North Head and South Head and the expansive Pacific Ocean.
The trike tour continued on to Manly. They rode past the famous beach and then up past the northern beaches of North Curl Curl, Dee Why, Long Reef and more. Once they got to Narrabeen, they rode around Narrabeen Lake and down the whole length of Wakehurst Parkway. The speed limit is slightly higher than usual so a chance to rev the engine!
However, the 3 hours was almost up. So Craig crossed back over the Spit Bridge and the Sydney Harbour Bridge before dropping them back off at the hotel. The surprise Beach Beauty tour was a real surprise and a huge success as you can see by their smiles! https://www.trolltours.com.au/product/the-beach-beauty/
https://www.nationalparks.nsw.gov.au/things-to-do/lookouts/arabanoo-lookout-at-dobroyd-head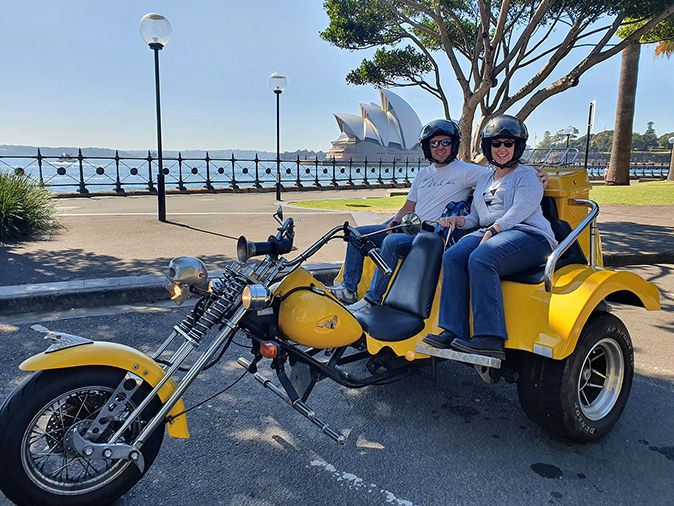 https://www.trolltours.com.au/wp-content/uploads/2020/10/surprise-Beach-Beauty-tour-DarLeo1.jpg
517
689
Kat
https://www.trolltours.com.au/wp-content/uploads/2016/08/logo.png
Kat
2020-10-14 12:21:54
2020-10-14 12:22:25
surprise Beach Beauty tour – Daryl + Leonie 13.10.20