Skimmer trike tour transfer – Michael + Mirrin 27.10.20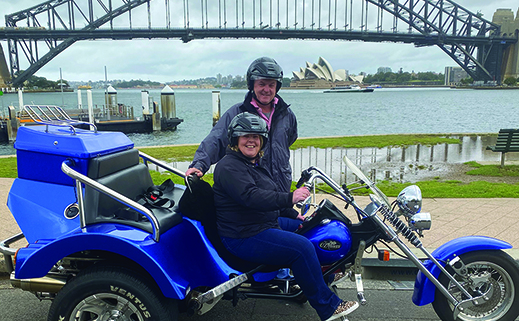 Troll Tours
Michael and Mirrin came for Sydney for a holiday. They are from Tamworth in the northeast of NSW. A few of the things they wanted to do are still closed. So, Mirren started looking for things to do while they were here. Apparently, we came up as #1 on 'things to do in Sydney'. We like it! ? After tossing around a few ideas, Mirren decided the North Shore Skimmer trike tour transfer sounded like what they were after.
We arranged to pick them up from their hotel and drop them off in Manly. Then, they could explore the famous Manly Beach and have some lunch (there are many cafes and restaurants). When they were ready, they could catch the Sydney Ferry back to Circular Quay.
Iconic Sydney Harbour Bridge
Our trike rider Steve, picked up our passengers from their hotel. Firstly, they rode through the city and over the iconic Sydney Harbour Bridge. We always tell our passengers to look up and enjoy the unique view. The more than 6,000,000 rivets were used to assemble the various plates on the bridge. Actually, they are so interesting to look at and the arch is so iconic.
McMahons Point
Next, after riding across the Harbour Bridge they rode to McMahons Point. From here, the views across Sydney Harbour towards the Sydney Opera House and the CBD are magnificent. In addition, it also has an up-close view of the side and underneath of the bridge.
lower North Shore suburbs
Continuing north east, the rode through Cremorne, Mosman and down past the Zoo to Bradleys Head. Make sure you look for the koalas eating and sleeping in the gum trees.
Bradleys Head and Balmoral Beach
Similarly, Bradleys Head has wonderful views across Sydney Harbour to the Sydney Opera House, Harbour Bridge and the CBD. Continuing on, they rode past the lovely posh Balmoral Beach. Everyone who comes here loves it! Balmoral Beach is not so well known by visitors and tourists, but the stunning natural beauty of the beach and surrounds make it well worth a visit. Crossing the Spit Bridge is fun, it has great views of Middle Harbour.
Lower northern beaches
Riding further up the hill they rode into Seaforth and Clontarf. Another view worth checking out is at Tania Park, on Dobroyd Head. The views are amazing looking across Sydney Harbour and through North and South Heads.
However, time was just about up so Steve dropped the passengers off at Manly. They could continue their exploration of Manly and have some lunch at one of the many restaurants in Manly. When they were ready, they caught a ferry back into town. Manly Beach has three main sections: rom north to south, Queenscliff, North Steyne, and South Steyne. It is part of the Northern Beaches.
In conclusion, the North Shore Skimmer trike tour transfer was a huge success. Just check out their smiles in the photo.
https://www.trolltours.com.au/product/the-north-shore-skimmer-trike-tour/

https://www.trolltours.com.au/wp-content/uploads/2020/10/Harley-North-Shore-Skimmer-trike-MicMir1.jpg
504
519
Kat
https://www.trolltours.com.au/wp-content/uploads/2016/08/logo.png
Kat
2020-10-27 16:27:49
2020-10-27 16:28:08
Skimmer trike tour transfer – Michael + Mirrin 27.10.20