70thBirthday Skimmer trike tour – Phyllis + Shona 04.11.20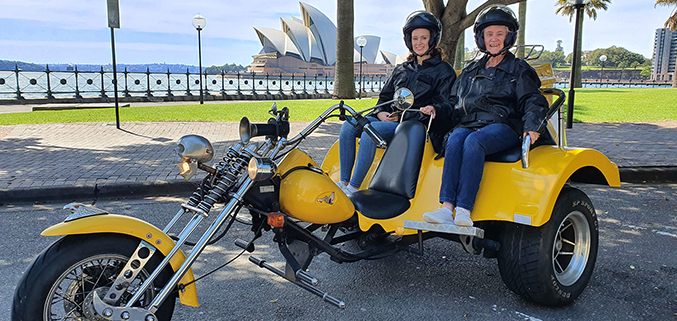 Troll Tours
The 70thBirthday Skimmer trike tour was for Phyllis, Shona's mum. Shona wrote, "My mum mentioned she had always wanted to do a Harley trike ride. I just put in Google search Harley ride Sydney and browsed a few sites. Realised it was called a trike so put that in Google and then browsed yours. Looked at a few other sites but I liked yours the best."
A lot of work goes on behind the scene with our website so we are happy other people like it also. Anyway, Shona organised her mum's 70th birthday trike tour with us. Phyllis has a bad knee so can't walk far. We found a place in the Rocks where Shona could park and they didn't have to walk too far to the trike.
Our trike rider Craig picked them up near the Overseas Passenger Terminal, the Rocks.
Firstly, they rode around The Rocks, Sydney's oldest historical area, located directly under the Sydney Harbour Bridge, in the centre of the city.
Next, they rode across the iconic Sydney Harbour Bridge. We always tell our passengers to look up and enjoy the unique view. The more than 6,000,000 rivets are so interesting and the arch is so iconic. This lead to Jeffrey Street Wharf in Kirribilli. From here, the views across Sydney Harbour towards the Sydney Opera House and the CBD are magnificent.
The Kirribilli Loop
They rode under the north side of the bridge and continued on their tour. The underside of the northern end of the SHB – Sydney Harbour Bridge – is very interesting. The Kirribilli Loop was finished by riding past Luna Park and the North Sydney Olympic Pool.
lower North Shore suburbs
Continuing north east, they rode through Cremorne, Mosman and down past the Taronga Zoo to Bradleys Head. Make sure you look for the koalas eating and sleeping in the gum trees. So far, the 70thbirthday Skimmer trike tour was a huge success.
Bradleys Head and Balmoral Beach
Similarly, Bradleys Head has wonderful views across Sydney Harbour to the Sydney Opera House, Harbour Bridge and the CBD. Riding on, they rode past the lovely posh Balmoral Beach. Everyone who comes here loves it!
The Northern Beaches
Next, they rode through the back streets before crossing the Spit Bridge, this is always fun. The lovely views of Middle Harbour and hundreds of yachts are hard to forget. Riding further up the hill they rode into the northern beach suburbs of Seaforth and Clontarf. They turned off the main road, Manly Road, to have a look at Sandy Bay. It is such a beautiful (and upper class) area. Riding into the famous Manly, Craig dropped Phyllis + Shona off. Celebrations were to continue, our passengers were going to eat lunch at one of the many nice restaurants in Manly. After that, they were going to catch the ferry back into Sydney's Circular Quay. Then it was a short walk to their car.
In conclusion, the 70thbirthday Skimmer trike tour was the best present possible. A tick on the bucket list. ✔︎
https://www.trolltours.com.au/product/the-north-shore-skimmer-trike-tour/
https://www.trolltours.com.au/wp-content/uploads/2020/11/Harley-NorthShoreSkimmer-trike-tour-PhySho1.jpg
508
677
Kat
https://www.trolltours.com.au/wp-content/uploads/2016/08/logo.png
Kat
2020-11-05 19:32:09
2020-11-05 19:32:37
70thBirthday Skimmer trike tour – Phyllis + Shona 04.11.20