Harley ride birthday transfer – Patricia 15.11.20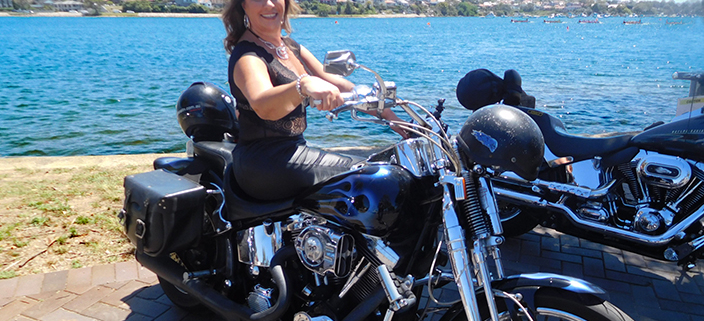 Troll Tours
Trish contacted us to organise the Harley ride birthday transfer. It's her birthday and as she does every year, she celebrates in style. As we all know, Harleys are loud and attention getting. She wanted to arrive at her party in style and loudly. So, she asked us to organise 3 Harleys, one for her to ride on and the other two for the sound effects. It was also thought that the 3 Harleys in convoy would attract a lot of attention. They sure did!
3 Harley riders
3 Harley riders arrived at Trish's house in the inner west. One of our riders, Jungle, lives close by so he knew all the roads and routes. Some of Trish's family got lost when they arrived at the drop off party boat area so Jungle was able to direct them via a chat app.
Inner west
Our passenger wanted to stop a few times for photos and we were happy to oblige. Jungle led the Harley convoy, they rode along part of the Inner West suburbs of Drummoyne, Leichhardt, Lillyfield and Rozelle. Following the shoreline of Iron Cove, which is part of the Parramatta River, they saw some lovely water views. This is where the photo was taken. It is part of the 7 km long Bay Run. So far, the fun Harley ride birthday transfer was a huge success, Trish loved it.
Birkenhead Point Marina
However, our riders headed to the drop off place because time was almost up. The party boat was the drop off point. The Boat cruises Sydney Harbour after leaving from Birkenhead Point Marina. Importantly, our riders arrived exactly on time and they made a grand entrance. Everybody looked and smiled, it was very impressive. Her party guests were very impressed! In conclusion, the Harley ride birthday transfer was a big hit – attention grabbing, loud and fun.
Loving Trish's outlook on life. Trish wrote to me while we were organising the final details:
Hi Katrina,
Every birthday its a big birthday for me! I just love to celebrate life!
We live only ones, if I don't do what I want now, I never will.
Let's party!!
Thanks heaps.
Regards, Trish 
https://www.trolltours.com.au/product/design-your-own-ride/
https://www.trolltours.com.au/wp-content/uploads/2020/11/Harley-ride-birthday-transfer-Pat1-sml.jpg
528
704
Kat
https://www.trolltours.com.au/wp-content/uploads/2016/08/logo.png
Kat
2020-11-15 22:57:56
2020-11-15 22:58:17
Harley ride birthday transfer – Patricia 15.11.20