16th birthday Harley tour – Kathryn + Lex 21.11.20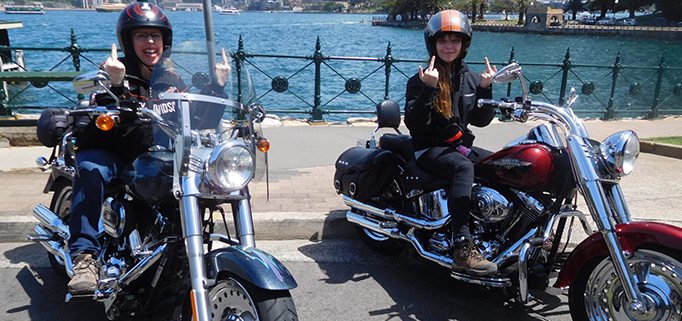 Troll Tours
Kathryn contacted us about organising a 16th birthday Harley tour for her daughter. They live in the Blue Mountains but decided they wanted to see somewhere different. So, they caught a train into Sydney city.
Our Harley riders Jungle and Phil picked them up at Circular Quay (we emailed a map of where to meet).
Iconic Sydney Harbour Bridge
Firstly, they rode through the city and over the iconic Sydney Harbour Bridge. We always tell our passengers to look up and enjoy the unique view. The more than 6,000,000 rivets are so interesting and the arch is so iconic.
Kirribilli
Next, after riding across the Harbour Bridge they rode past Kirribilli House. Kirribilli House is the secondary official residence of the Prime Minister of Australia.
After that, they rode around the corner to Jeffrey Street Wharf. From here, the views across Sydney Harbour towards the Sydney Opera House and the CBD are magnificent. In addition, it also has an up-close view of the side and underneath of the bridge.
The Kirribilli Loop
They rode under the north side of the bridge and continued on their tour. The underside of the northern end of the SHB – Sydney Harbour Bridge – is very interesting. The Kirribilli Loop was finished by riding past Luna Park and the North Sydney Olympic Pool.
Lower North Shore suburbs
Continuing north east, they rode through Cremorne, Mosman and down past the Taronga Zoo to Bradleys Head. Make sure you look for the koalas eating and sleeping in the gum trees. So far, the 16th birthday Harley tour was a huge success.
Bradleys Head and Balmoral Beach
Similarly, Bradleys Head with the bradleys head amphitheatre has wonderful views across Sydney Harbour to the Sydney Opera House, Harbour Bridge and the CBD. Continuing on, they rode past the lovely posh Balmoral Beach. Everyone who comes here loves it!
Because they were on a 1.5 hour Harley tour, they continued on further north. Through the back streets before crossing the Spit Bridge, is always fun. Middle Harbour and the hundreds of yachts are such a lovely view that they are hard to forget. They stopped at the Spit Lookout for a look at the gorgeous view. However, the one and a half hours was almost up so Phil and Jungle turned around. They rode back through the inner northern suburbs and over the Harbour Bridge.
Through the city to Mrs Macquarie's Chair – more beautiful views of Sydney Harbour. However, time was up so our Harley riders dropped the passengers at Central Station. It was easy to catch a train back to the mountains from here. The 16th birthday Harley tour was a huge lot of fun – a memorable birthday. Feel the freedom!
https://www.trolltours.com.au/product/design-your-own-ride/
https://www.trolltours.com.au/wp-content/uploads/2020/11/16th-birthday-Harley-tour-KatLex1.jpg
511
682
Kat
https://www.trolltours.com.au/wp-content/uploads/2016/08/logo.png
Kat
2020-11-23 21:15:22
2020-11-23 21:15:46
16th birthday Harley tour – Kathryn + Lex 21.11.20