fun trike tour present – Gloria + Rhonda 10.12.20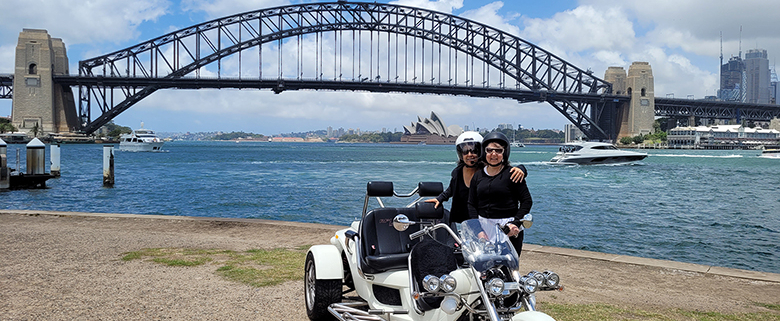 Troll Tours
Gloria organised a fun trike tour present for her sister and a friend. The friend had to work so Gloria had the ride with Rhonda instead. They are from outer NSW and came to Sydney for a holiday.
Our trike rider David picked them up from outside the Novotel Brighton-le-Sands. They really wanted to go over the Sydney Harbour Bridge, so David made sure he took them. Firstly, they rode around the back of the airport, it's still quiet but is picking up. Next, they rode through the city. There wasn't much time for sightseeing but riding on a trike through the city is a lot of fun. You will see things you have never noticed from inside a car.
Iconic Sydney Harbour Bridge
After that, they rode over the iconic Sydney Harbour Bridge. We always tell our passengers to look up and enjoy the unique view. The more than 6,000,000 rivets are so interesting and the arch is so iconic. The fun trike tour present was such a success.
Blues Point Reserve
After you ride off the Harbour Bridge, a left hand turn and a ride up a few streets, leads to Blues Point Reserve. The views over Blues Bay towards the Sydney Opera House, the Harbour Bridge and the CBD are just stunning. All the more stunning because of the lovely weather.
After a stop for a stretch and a few photos, they hopped back on the trike and David took them back over the Sydney Harbour Bridge. They rode back through the city. However, time was up so he dropped the passengers back at their hotel. In conclusion, the fun trike tour present was a winner!
https://www.trolltours.com.au/product/design-your-own-ride/
Blues Point was named after Billy Blue, a convict who arrived in Sydney on the Minorca on 14 December 1801, transported for stealing a bag of sugar. Physically imposing, he was described as a "strapping Jamaican Negro 'a very Hercules in proportion' with a bright eye and a jocular wit". (credit: Wikipedia).
https://www.trolltours.com.au/wp-content/uploads/2020/12/fun-trike-tour-present-gloRho1.jpg
439
780
Kat
https://www.trolltours.com.au/wp-content/uploads/2016/08/logo.png
Kat
2020-12-12 18:17:39
2020-12-12 18:17:59
fun trike tour present – Gloria + Rhonda 10.12.20