60th birthday: spectacular tours – Brad + Rob 12.02.21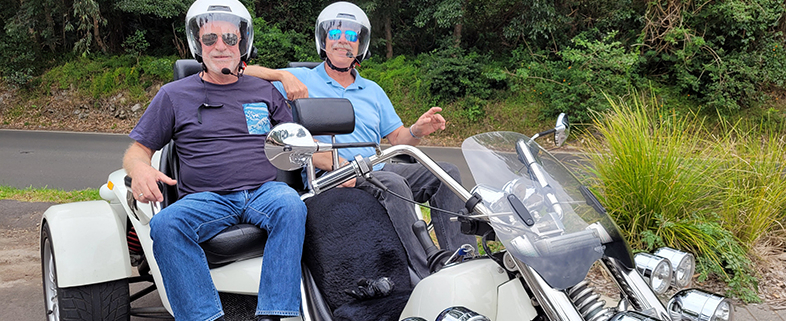 Troll Tours
The 60th birthday: spectacular tours was given to Brad by his girlfriend, last year. She ended up not being able to come on the tour so he brought his best mate.
Testimonial 1
Hi Katrina
Just wanted to say big thank you to Troll Tours. Our Tour Guide David was wonderful and we have had the best trip down thru the Royal National Park today. Wonderful views, open road and very nice Trike. We loved the experience, thanks again.
Kind Regards
Brad
After the follow up email Brad wrote:
Testimonial 2
Thanks Katrina
We had a great day and David was lovely very knowledgeable and a very safe driver. We both loved the trip thru the Royal National Park. Normally when I drive the same route I'm too busy driving to look at the scenery. But with the Trike you get the Big Sky View and fresh air too !! This was a gift voucher for my birthday and this is not something I would have normally considered for myself.
However after experiencing the ride, I would consider buying this as a gift for friends and family. Great service, we loved it! Thanks for the photo and yes please feel free to use on your website.
Kind Regards
Brad
We organised our trike rider David, to pick them up from Brad's place in Kirrawee. This is in the Sutherland Shire. In summary, they rode through the Royal National Park to the amazing Sea Cliff Bridge. Then they returned via the National Park and Waterfall. Then, too soon, it was back to Kirrawee.
The Royal National Park
Firstly, they rode through Sydney city to the south through the Royal National Park. The Royal National Park is Australia's first National Park and after Yellowstone in the U.S.A. was the second National Park in the world to be established.
Interestingly, the park was originally named The National Park but this was changed in 1955 after a quick visit by Queen Elizabeth II to the Royal National Park. It was created as a people's park in 1879 and the park covers an area of 132 sq km. So far, the The 60th birthday: spectacular tours was such fun.
Coalcliff and Clifton
After travelling through the relaxing natural Australian bush, we travel the road between Coalcliff and Clifton, it used to have some scary moments. The potential of falling debris or subsidence into the sea made it necessary to close the road, but all is well again.
Sea Cliff Bridge
However, the impressive 665 metre Sea Cliff Bridge is now in operation, snaking its way around the cliffs and over the water, offering a far safer but spectacular route.
In conclusion, the 60th birthday: spectacular tours was the best birthday present ever. https://www.trolltours.com.au/product/southern-spectacular-trike-tour/
https://www.trolltours.com.au/wp-content/uploads/2021/02/southern-spectacular-trike-tour-BraRob1.jpg
442
786
Kat
https://www.trolltours.com.au/wp-content/uploads/2016/08/logo.png
Kat
2021-02-15 08:45:51
2022-06-12 17:34:42
60th birthday: spectacular tours – Brad + Rob 12.02.21