wife's surprise birthday present – Alannah + Jacqui 06.03.21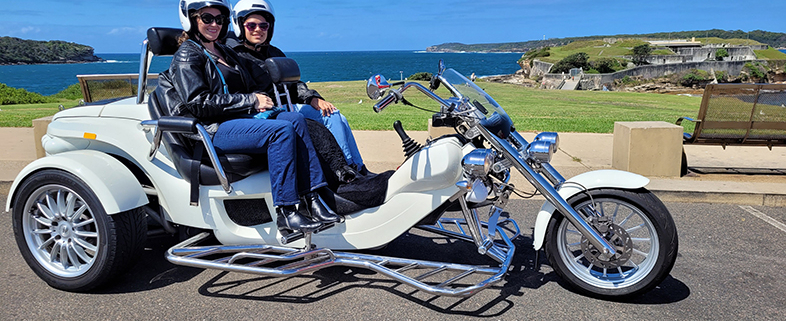 Troll Tours Pty Ltd
Michael wanted to organise his wife's surprise birthday present. Absolutely, we have had so much experience organising surprises. We just all wish we could be there to see their faces. A trike was preferred so they could sit and chat together.
Our trike rider David, picked Michael's wife and daughter up from their home. It is in the southern Sydney suburb of Bexley. David has lived in the area all his life so knows the best places. Places with a scenic view.
Maroubra Beach
Firstly, he rode along Qantas Drive to see the stationary aircraft and spot one about to take off! Next it was to Maroubra Beach to see the Rubik cube.
Rubik's Cube by the Beach: Guerrilla Public Art
For decades at Maroubra beach in Sydney there has sat looking out across the foreshore a concrete block. But, in the middle of a warm December night, during what has been described as a 6-hour escapade involving two artists and a third "police look out" the concrete block was transformed. It really is a giant Rubik's Cube statue!
David and the passengers also went to Maroubra Beach to check out the surf as there was a surf warning. Already, the wife's surprise birthday present was a success!
Long Bay and La Perouse

Then they joined Anzac Parade and passed Long Bay then onto La Perouse They stopped for a photo shoot with Bare Island in the background. David explained the historic significance of La Perouse and pointed to Cook's landing place in Kurnell just across the bay. The La Perouse peninsula is the northern headland of Botany Bay. It is notable for its old military outpost at Bare Island and the Kamay Botany Bay National Park.

However, the hour was almost up so they rode back via Foreshore Drive. Again past the airport to see more stationary planes and home again. The wife's surprise birthday present was a huge surprise and a huge success. A very memorable experience.
https://www.trolltours.com.au/product/design-your-own-ride/
La Perouse history information
La Perouse was named after the French navigator Jean-François de Galaup, comte de Lapérouse (1741–88), who landed on the northern shore of Botany Bay west of Bare Island on 26 January 1788. Captain Arthur Phillip and the first fleet of convicts had arrived in Botany Bay a few days earlier. Louis XVI of France had commissioned Lapérouse to explore the Pacific. In April 1770 James Cook's expedition had sailed onto the east coast of Australia whilst exploring the south Pacific searching for Terra Australis or 'Land of the South'. Upon King Louis XVI's orders, Lapérouse departed Brest, France, in command of the Astrolabe and Boussole on 1 August 1785 on a scientific voyage of the Pacific inspired by the voyages of Cook. La Perouse in Sydney's south is named after the leader of this French expedition.
A lot more interesting information can be found: https://en.wikipedia.org/wiki/La_Perouse,_New_South_Wales
https://www.trolltours.com.au/wp-content/uploads/2021/03/Harley-wifes-surprise-birthday-present-AlaJac1.jpg
442
786
Kat
https://www.trolltours.com.au/wp-content/uploads/2016/08/logo.png
Kat
2021-03-07 18:04:16
2021-03-07 18:04:33
wife's surprise birthday present – Alannah + Jacqui 06.03.21