Northern Beaches trike tour – Kirstie + Sharon 30.03.21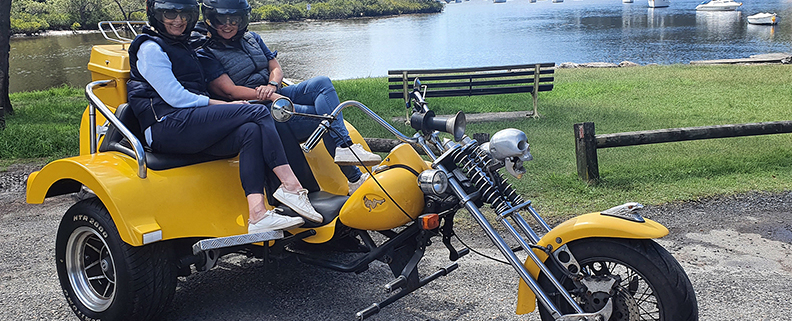 Troll Tours Pty Ltd
The Northern Beaches trike tour was organised by Kirstie for her best friend. Sharon has had a horrendous last few weeks so Kirstie thought a trike tour would get her out of the house. It was a great way to forget about reality for a while.
Craig, our trike rider, picked them up from a home in the upper north shore. Firstly, they rode down Mona Vale Road to Terry Hills. Then down Mccarrs Creek Road to Mona Vale. Riding through Elanora Heights to meet up with Wakehurst Parkway is always nice. On the Wakehurst Parkway the speed is 80kms per hour instead of the standard 50-60km/h. We love feeling the breeze as we drive along. The Northern Beaches trike tour was a success so far.
Narrabeen Lagoon
Narrabeen Lagoon (also referred to as Narrabeen Lake) is Sydney's Northern Beaches largest estuary system located just behind the world famous surfing beach at Narrabeen. It is a haven for wildlife.
After rising along a part of it, they rode up the Parkway to Oxford Falls. The Oxford Falls are two waterfalls on Middle Creek, which flows north to meet Oxford Creek. Meandering Creek flows into Middle Creek. Garigal National Park borders the suburb, to the north. From there, it was into Forest Way before returning to the upper north shore and home. 
In conclusion, the Northern Beaches trike tour was exactly what was needed. It was a fun experience and a break from reality. https://www.trolltours.com.au/product/design-your-own-ride/
Testimonial
Hi Katrina, 
Yes, it was very good for the soul and exactly what we both needed. Craig was perfect in every way. From the route, to the speed, to his conscious effort of letting us just be silent.
I am sure putting our photo on your site will be fine. l will load something up on social media this weekend for sure. 
Thanks again for everything and for allowing us flexibility if needed. 
Kirst
https://www.trolltours.com.au/wp-content/uploads/2021/03/Harley-Northern-Beaches-trike-tour-KirSha1.jpg
437
792
Kat
https://www.trolltours.com.au/wp-content/uploads/2016/08/logo.png
Kat
2021-03-31 16:08:52
2021-03-31 16:09:08
Northern Beaches trike tour – Kirstie + Sharon 30.03.21