50th birthday Harley ride – James, Leif + Michaela 18.04.21

Troll Tours Pty Ltd
The 50th birthday Harley ride was organised by Michaela for herself. She had always wanted to go on a Harley, so what better time than now! Her son and husband came with her.
Our three Harley riders Phil, Craig and Pat, met the passengers at their home. Their home is in Dee Why, within the Northern Beaches area of Sydney.
Collaroy Plateau
Firstly, they rode past Dee Why Beach and Collaroy Beach. Next, they rode up onto Collaroy Plateau for lovely views over the beach and Narrabeen Lake. Then, they rode up Wakehurst Parkway. We love the Wakehurst Parkway because the legal speed is faster than most Sydney limits.
Oxford Falls
Narrabeen Lakes is a lovely place to ride around. So, after riding around part of it, they rode through Oxford Falls. This area is like being out in the countryside. Continuing on down the Wakehurst Parkway to Seaforth. They stopped to look at the view of Middle Harbour and the boats in the marinas.
Arabanoo Lookout
From there we rode down through Clontarf onto Dobroyd Headland and Arabanoo Lookout. From here there are wonderful views to the Sydney Heads, both North and South. However, the 1.5 hours was almost up so the riders turned around and took the passengers home. In conclusion, the 50th birthday Harley ride was a huge success, smiles all round!
https://www.trolltours.com.au/product/design-your-own-ride/
Arabanoo lookout at Dobroyd Head offers fantastic views over to North Head and South Head and the expansive Pacific Ocean.
Named in honour of Aboriginal man Arabanoo, the first Aboriginal man to live among European settlers, the lookout is a great spot for some whale watching. There are a few signs and monuments around the lookout that provide some historical information about the significance of the area.
https://www.nationalparks.nsw.gov.au/things-to-do/lookouts/arabanoo-lookout-at-dobroyd-head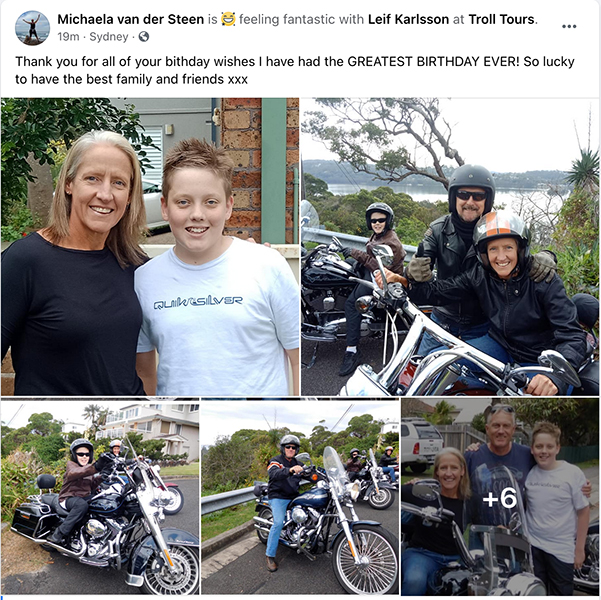 https://www.trolltours.com.au/wp-content/uploads/2021/04/50th-birthday-Harley-ride-JaLeMi1.jpg
1200
1600
Kat
https://www.trolltours.com.au/wp-content/uploads/2016/08/logo.png
Kat
2021-04-21 08:24:13
2021-04-21 08:24:30
50th birthday Harley ride – James, Leif + Michaela 18.04.21