surprise 50th trike transfer – Lisa + Marcia 12.05.21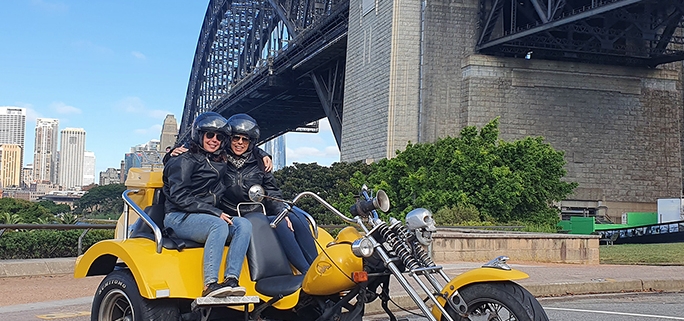 Troll Tours Pty Ltd
The surprise 50th trike transfer was organised by Lisa for her friend Marcia. It was a huge surprise – but a great one!
Firstly, our trike rider Craig, picked Lisa up from home on the North Shore. Then they rode to Marcia's house to surprise her with the surprise 50th trike transfer. You only turn 50 once so why not celebrate it!
North Shore
The tour was for 2 hours so they saw plenty on their way to Watsons Bay. So, after pick up they headed into the city via the north shore suburbs of St Ives, Killarney, Lindfield and Roseville. They continued down Eastern Valley Way through Castle Crag and Northbridge, lovely areas, before stopping at Kirribilli for a photo. 
Kirribilli
At Kirribilli they rode past Kirribilli House. Kirribilli House is the secondary official residence of the Prime Minister of Australia. After that, they rode around the corner to Jeffrey Street Wharf. From here, the views across Sydney Harbour towards the Sydney Opera House and the CBD are magnificent. In addition, it also has an up-close view of the side and underneath of the bridge. A perfect place to stop for photos.
The Kirribilli Loop
They rode under the north side of the bridge and continued on their tour. The underside of the northern end of the SHB – Sydney Harbour Bridge – is very interesting. The Kirribilli Loop was finished by riding past Luna Park and the North Sydney Olympic Pool.
Sydney Harbour Bridge
After the photo stop and the loop, they rode over the Sydney Harbour Bridge. We always tell our passengers to look up and enjoy the unique view. The more than 6,000,000 rivets are so interesting and the arch is so iconic.
Mrs Macquarie's Point
Continuing on, they rode through the city and past the Royal Botanical Gardens and past the magnificent Art Gallery of NSW. This road leads to Mrs Macquarie's Point. It has beautiful views looking west towards the Sydney Opera House and the Sydney Harbour Bridge. They ride past Mrs Macquarie's Chair but you can't see it from the road. Mrs Macquarie's Chair is an exposed sandstone rock cut into the shape of a bench, on a peninsula in Sydney Harbour. It was hand carved by convicts in 1810, for Elizabeth Macquarie, the wife of Major-General Lachlan Macquarie, Governor of NSW.
Next on, they rode through the inner eastern suburb of Woolloomoolloo and past the famous Harry Cafe De Wheels. Harry's Café de Wheels has been serving customers for over 80 years. They make delicious pies, hotdogs and more. Next they rode through the infamous Kings Cross, though it has calmed down a lot since it's heyday – home of the famous and huge Coca Cola sign. Kings Cross is also home to nightclubs and ladies of the night though it is not nearly as raunchy as it was in the 1970s (apparently).
Then it was through the eastern suburbs of Sydney, including the Bays: Double Bay, Rose Bay and Rushcutters Bay. Onto the posh Vaucluse before stopping at the GAP to look at the view. We then rode to the Watson's Bay Hotel where Craig dropped them off for lunch. In conclusion, the surprise 50th trike transfer was a huge success and a lot of fun!
Feel the freedom!
https://www.trolltours.com.au/product/design-your-own-ride/
https://www.trolltours.com.au/wp-content/uploads/2021/05/Surprise-50th-trike-transfer-LiMa1.jpg
506
684
Kat
https://www.trolltours.com.au/wp-content/uploads/2016/08/logo.png
Kat
2021-05-13 15:33:06
2021-05-13 15:33:21
surprise 50th trike transfer – Lisa + Marcia 12.05.21