self bought the trike tour – Mattie + Nick 16.05.21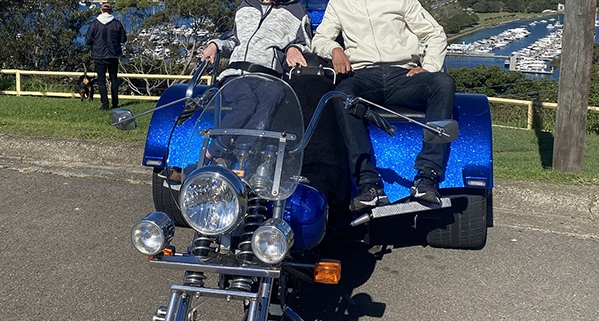 Troll Tours Pty Ltd
Nick has been doing trike tours with us for the last 5 years. The last one was in January but because it is his birthday, it gave him an excuse to go on another one. So he self bought the trike tour as a present to himself. He has cerebral palsy but that doesn't stop him enjoying life. Our trike rider Steve, met Nick and his carer at Jeffrey Street Wharf, Kirribilli.
Kirribilli
From here, the views across Sydney Harbour towards the Sydney Opera House and the CBD are magnificent. In addition, it also has an up-close view of the side and underneath of the bridge. A perfect place to stop for photos.
The Kirribilli Loop
They rode under the north side of the bridge and continued on their tour. The underside of the northern end of the SHB – Sydney Harbour Bridge – is very interesting. The Kirribilli Loop was finished by riding past Luna Park and the North Sydney Olympic Pool.
lower North Shore suburbs
Continuing north east, they rode through Cremorne, Mosman and down past the Taronga Zoo to Bradleys Head. Make sure you look for the koalas eating and sleeping in the gum trees. So far, the self bought the trike tour was a huge success.
Bradleys Head and Balmoral Beach
Similarly, Bradleys Head has wonderful views across Sydney Harbour to the Sydney Opera House, Harbour Bridge and the CBD. Riding on, they rode past the lovely posh Balmoral Beach. Everyone who comes here loves it! Balmoral Beach is not so well known by visitors and tourists, but the stunning natural beauty of the beach and surrounds make it well worth a visit. Crossing the Spit Bridge is fun, it has great views of Middle Harbour.
After Balmoral Beach they continued on past, Seaforth and Clontarf before stopping at Tania Park. Tania Park is on Dobroyd Head with stunning views looking across Sydney Harbour and through North and South Heads. Arabanoo lookout at Dobroyd Head is named in honour of Arabanoo, the first Aboriginal man to live among European settlers. It's a great spot for whale watching, offering views over North and South Head and the Pacific Ocean. However, the 1.5 hours was nearly up so Steve headed back.
Back in Kirribilli, they rode past Kirribilli House and Admiralty House. Kirribilli House is the secondary official residence of the Prime Minister of Australia. Admiralty House is the Sydney official residence of the Governor-General of Australia. However, the 1.5 hours was up so Steve dropped Nick and Mattie back at their vehicle. In conclusion, the self bought the trike tour was a huge success – yet again! ?? Steve said Nick was laughing and making happy noises the whole time. ?
https://www.trolltours.com.au/product/the-north-shore-skimmer-trike-tour/
https://www.australia.com/en/places/sydney-and-surrounds/guide-to-sydney-harbour.html
https://www.trolltours.com.au/wp-content/uploads/2021/05/birthday-celebration-trike-tour-MatNic1.jpg
581
599
Kat
https://www.trolltours.com.au/wp-content/uploads/2016/08/logo.png
Kat
2021-05-18 18:51:03
2021-05-18 18:51:44
self bought the trike tour – Mattie + Nick 16.05.21