trike tour over Harbour Bridge – Emilia + Sam 07.06.21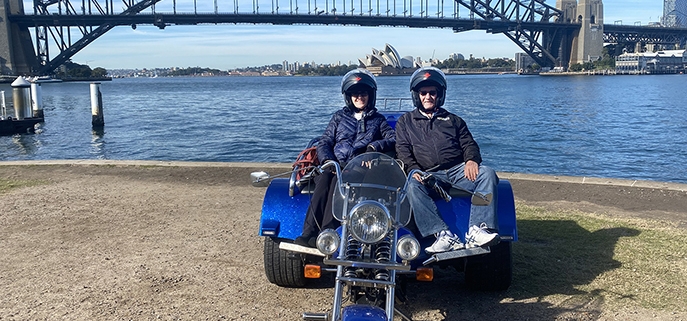 Troll Tours Pty Ltd
Emilia rang us at the last minute. Could we organise a trike tour over Harbour Bridge? She and her husband had something else organised but it fell through. They thought that since they were already in the city, they may as well make the most of it. Doing a trike tour with us certainly making the most of it!
Our trike rider Steve met them at Circular Quay. We had emailed a map and description of exactly where to meet.
Sydney Harbour Bridge
Firstly, they rode over the Sydney Harbour Bridge. We always tell our passengers to look up and enjoy the unique view. The more than 6,000,000 rivets are so interesting and the arch is so iconic.
Blues Point Reserve
After we rode off the Harbour Bridge, we did a left hand turn and a ride up a few streets, leads to Blues Point Reserve. The views over Blues Bay towards the Sydney Opera House, the Harbour Bridge and the CBD are just stunning. All the more stunning because of the lovely weather. So far, the passengers were so happy with the trike tour over Harbour Bridge.
Kirribilli
Next, they rode past Kirribilli House. Kirribilli House is the secondary official residence of the Prime Minister of Australia. After that, they rode around the corner to Jeffrey Street Wharf. From here, the views across Sydney Harbour towards the Sydney Opera House and the CBD are magnificent. In addition, it also has an up-close view of the side and underneath of the bridge. A perfect place to stop for photos.
The Kirribilli Loop
Next, they rode under the north side of the bridge and continued on their tour. The underside of the northern end of the SHB – Sydney Harbour Bridge – is very interesting. The Kirribilli Loop was finished by riding past Luna Park and the North Sydney Olympic Pool.
However, the 45 mins was almost up so Steve turned around and they rode back over the Harbour Bridge. Then it was back to Circular Quay and the drop off point. In conclusion, the trike tour over Harbour Bridge was a huge success. You can see by their smiles.
https://www.trolltours.com.au/product/harbour-bridge-ride/
The Sydney Harbour Bridge is an Australian heritage-listed steel through arch bridge across Sydney Harbour that carries rail, vehicular, bicycle, and pedestrian traffic between the Sydney CBD and the North Shore. The bridge is nicknamed "The Coathanger" because of its arch-based design.
https://www.trolltours.com.au/wp-content/uploads/2021/06/Harley-Harbour-Bridge-trike-tour-EmiSam1.jpg
515
687
Kat
https://www.trolltours.com.au/wp-content/uploads/2016/08/logo.png
Kat
2021-06-07 16:00:03
2021-06-07 16:02:55
trike tour over Harbour Bridge – Emilia + Sam 07.06.21