Harleys and trike transfer – Bayer 27.05.21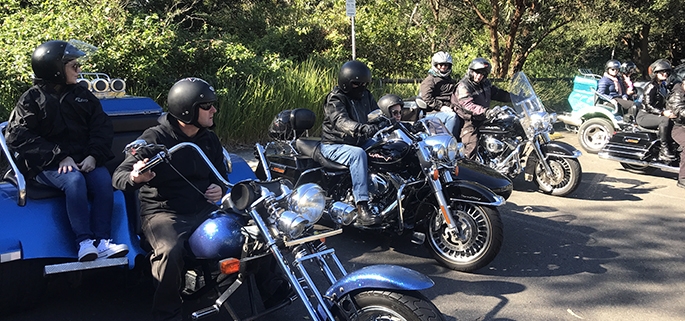 Troll Tours Pty Ltd
Harleys and trike transfer testimonial:
Hi Katrina,
They really loved it – thanks so much!  The rest of the event went well also. We were lucky to have such lovely weather and Wildlife Retreat is a really special venue. 
Haha – it is good work for Bayer but the people who attended this event put in lots of actual work to get there for sure ?.
Thanks for the photos. I would love to write a review but unfortunately our company has a policy around this also, only official spokespersons are permitted to make public comments against the company name, sorry.
Many thanks,
Amanda
Every so often, Bayer Australia organise a fun outing for their staff. We have taken them few times on various events. Today, we organised a Harleys and trike transfer for them.
Our riders, with an assortment of motorcycles – trikes, Harleys and a sidecar – met our passengers outside the The Wildlife Retreat at Taronga Zoo. After our passengers chose which motorbike they wanted to go on, each rider gave them a helmet and a jacket if they wanted one. Each passenger was told and shown, instructions of how to get onto the motorcycle and where to hold on. With the formalities out of the way, both the riders and the passengers were ready to have fun!
Our riders love doing all their rides. Group ones are special in that the riders arrive early so they can catch up on each others news.
Balmoral Beach
Firstly, they rode past the lovely posh Balmoral Beach. Everyone who comes here loves it! Balmoral Beach is not so well known by visitors and tourists, but the stunning natural beauty of the beach and surrounds make it well worth a visit. After Balmoral Beach they continued on and over the Spit Bridge, Mosman. It is a fun bridge to ride over and it has great views of Middle Harbour. So far, the Harleys and trike transfer was such fun and a great way to see the sights – without a roof over your head.
Then it was up to the Seaforth Lookout which has stunning views of The Spit and the surrounding waterways. You can also see the heads from here though they are at a distance. Meadering through the back streets of Balgowlah and Clontarf is interesting. Another place with stunning views of the Heads, is Tania Park. Tania Park is on Dobroyd Head with stunning views looking across Sydney Harbour and through North and South Heads. Arabanoo lookout at Dobroyd Head is named in honour of Arabanoo, the first Aboriginal man to live among European settlers. It's a great spot for whale watching, offering views over North and South Head and the Pacific Ocean.
They all stopped here for a look at the views and a stretch. What a beautiful day for a ride!
Manly
However, the hour was nearly up so they rode to Manly. Lunch was booked at a restaurant next to Manly Wharf so our riders dropped them off there. The passengers were going to continue celebrating with lunch. The Harleys and trike transfer was a huge success, it got everyone in the mood to relax and have fun.
https://www.trolltours.com.au/product/design-your-own-ride/
https://en.wikipedia.org/wiki/Spit_Bridge
https://www.trolltours.com.au/wp-content/uploads/2021/05/Harley-and-trike-transfer-Bay1.jpg
514
685
Kat
https://www.trolltours.com.au/wp-content/uploads/2016/08/logo.png
Kat
2021-06-26 17:34:58
2021-06-26 17:35:13
Harleys and trike transfer – Bayer 27.05.21