Manly Gift voucher tour – Eleni + John 29.12.21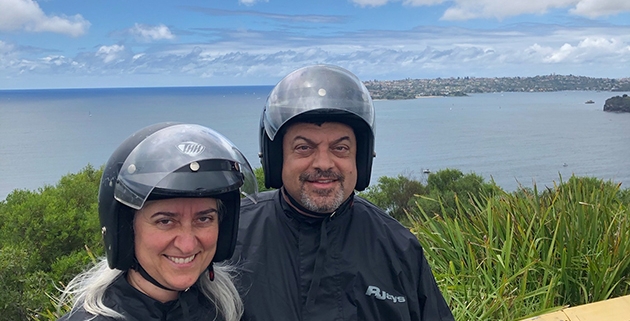 John was given a Manly Gift voucher tour. After a few delays due to covid, we could finally take him and his wife on the tour. Our trike rider Brian, met them at Manly Wharf. We always email a map and a description of where to meet, if it is someone out of the ordinary.
Manly and Arabanoo Lookout
Firstly, they rode around Manly for a look at the famous beach. Then it was on to Tania Park on the Dobroyd Headland with the Arabanoo Lookout. From here there are wonderful views to the Sydney Heads, both North and South and the expansive Pacific Ocean.
Balmoral Beach
Crossing the Spit Bridge is fun, it has great views of Middle Harbour. Riding on, they rode past the lovely posh Balmoral Beach. Everyone who comes here loves it! Balmoral Beach is not so well known by visitors and tourists, but the stunning natural beauty of the beach and surrounds make it well worth a visit.
Bradleys Head
Continuing on, they rode through Cremorne, Mosman and down past the Taronga Zoo to Bradleys Head. Make sure you look for the koalas eating and sleeping in the gum trees. Similarly, Bradleys Head has wonderful views across Sydney Harbour to the Sydney Opera House, Harbour Bridge and the CBD. So far, the Manly Gift voucher tour was a huge success.
Kirribilli
Next, they rode past Kirribilli House. Kirribilli House is the secondary official residence of the Prime Minister of Australia. After that, they rode around the corner to Jeffrey Street Wharf. From here, the views across Sydney Harbour towards the Sydney Opera House and the CBD are magnificent. In addition, it also has an up-close view of the side and underneath of the bridge. A perfect place to stop for photos.
The Kirribilli Loop
They rode under the north side of the bridge and continued on their tour. The underside of the northern end of the SHB – Sydney Harbour Bridge – is very interesting. The Kirribilli Loop was finished by riding past Luna Park and the North Sydney Olympic Pool.
Sydney Harbour Bridge
Finally, they rode over the Sydney Harbour Bridge. We always tell our passengers to look up and enjoy the unique view. The more than 6,000,000 rivets are so interesting and the arch is so iconic.
However, the hour was up so Brian dropped our passengers off at The Rocks, here they could explore the oldest part of Sydney. The Manly Gift voucher tour was a fun and memorable experience. A great present and a great way to see parts of the city only the locals know about.
https://www.trolltours.com.au/product/the-north-shore-skimmer-trike-tour/
https://www.trolltours.com.au/wp-content/uploads/2022/01/Manly-Gift-voucher-tour-EleJoh1.jpg
558
630
Kat
https://www.trolltours.com.au/wp-content/uploads/2016/08/logo.png
Kat
2022-01-10 09:53:43
2022-01-10 09:53:58
Manly Gift voucher tour – Eleni + John 29.12.21