Kiama trike tour surprise – Alexandra + Kaleb 06.01.22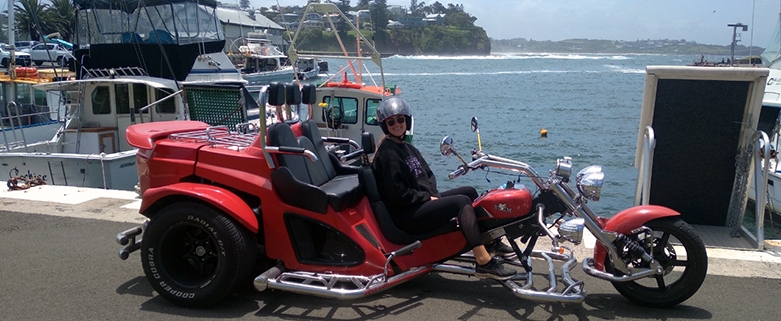 Troll Tours Pty Ltd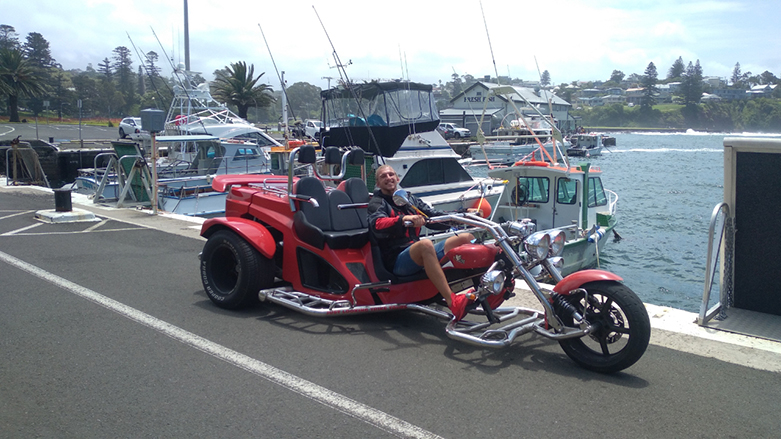 Michelle organised the Kiama trike tour surprise, for her daughter's birthday. Neither Alexandra or her boyfriend Kaleb had any inkling until the trike rocked up at their holiday accommodation. Needless to say, it was a wonderful surprise.
Kiama
Our trike rider Barry, picked them up from their accommodation at Kendalls Beach. He took them for a tour of part of the south coast, it's such a beautiful area. Kiama is a coastal town south of Sydney. It's known for the Kiama Blowhole and Little Blowhole, 2 cliff side caverns where seawater shoots into the air. They rode around Kiama and the wharf area.
Gerringong
Next, they rode south to Gerringong. It's a small, scenic town with a nice long beach, just 10kms south of Kiama. Gerringong was a rural dairying village but since the 1980s it has become increasingly a holiday and tourist destination. So far, the Kiama trike tour surprise birthday present was a lot of fun. Moreover, they are seeing places they never would have seen.
Jamberoo
After that, they turned around and headed north for the main part of their tour. Jamberoo is a famous place in NSW, because of the action park that is there. In addition, it is located 114 km south of Sydney so not far to go fo a day trip. The town's name is derived from an Aboriginal word meaning 'track' or 'path'. It's a quaint town with a good lookout on Saddleback Mountain. However, the 1 hour was almost up so they turned around an headed back to Kendalls Beach. In conclusion, the Kiama trike tour surprise was the best birthday present ever. In other words, they'd do it again in a heartbeat!
Here is a good rundown of Jamberoo: www.aussietowns.com.au/town/jamberoo-nsw
Testimonial
Hey there,
They loved it and couldn't stop smiling and it was a great surprise. Barry was very nice and they give him 10 out of 10. Yes all good for the photos .
Thanks Michelle
https://www.trolltours.com.au/wp-content/uploads/2022/01/Kiama-trike-tour-birthday-surprise-AleKal2.jpeg
439
781
Kat
https://www.trolltours.com.au/wp-content/uploads/2016/08/logo.png
Kat
2022-01-12 18:27:26
2022-08-09 22:49:50
Kiama trike tour surprise – Alexandra + Kaleb 06.01.22