Sydney NorthShore Harley tour – Bridget + Conrad 16.01.22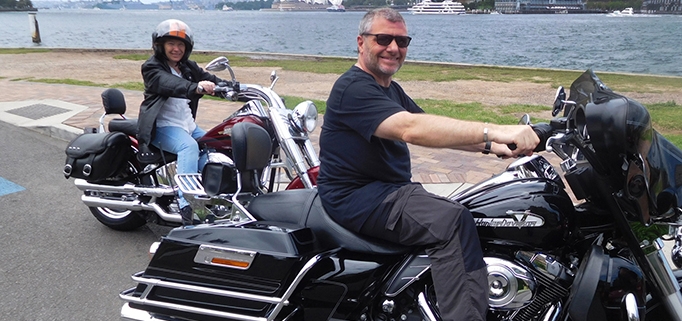 Troll Tours Pty Ltd
Our passengers were in Sydney for a holiday and wanted to do something fun. The Sydney NorthShore Harley tour was exactly what they wanted to do. Our Harley riders Phil and Perry, picked them up from outside the Lord Nelson Hotel, in the Rocks.
Sydney Harbour Bridge
Firstly, they rode over the Sydney Harbour Bridge. We always tell our passengers to look up and enjoy the unique view. The more than 6,000,000 rivets are so interesting and the arch is so iconic. It's nicknamed 'The Coathanger' because of its arch-based design. It is the largest steel arch bridge in the world.
Blues Point Reserve
After we rode off the Harbour Bridge, we did a left hand turn and a ride up a few streets. This leads to Blues Point Reserve. The views over Blues Bay towards the Sydney Opera House, the Harbour Bridge and the CBD are just stunning. All the more stunning because of the lovely weather. Continuing on, they rode through Cremorne and 'posh' Mosman.
Balmoral Beach
Riding on, they rode past the lovely posh Balmoral Beach. Everyone who comes here loves it! Balmoral Beach is not so well known by visitors and tourists, but the stunning natural beauty of the beach and surrounds make it well worth a visit. So far, they were loving the Sydney NorthShore Harley tour.
Spit Bridge lookout
Crossing the Spit Bridge is fun and then it was a fun ride up a windy hill to the lookout. From there, you can see great views of Middle Harbour. The Spit Bridge is a steel and concrete girder bridge with a bascule lift span. However, the one and a half hours was almost up so our riders turned around and went back different route.
Bradleys Head
Lastly, they rode past Taronga Zoo to Bradleys Head. Make sure you look for the koalas eating and sleeping in the gum trees. Similarly, Bradleys Head has wonderful views across Sydney Harbour to the Sydney Opera House, Harbour Bridge and the CBD. Then they rode back up the hill and dropped our passengers off at Wildlife Retreat, Taronga Zoo. In conclusion, the Sydney NorthShore Harley tour was a huge success.
Testimonial
Dear Katrina,
Thanks for sending the photos and feel free to use them.
We both really enjoyed the Harley ride, loved going over the bridge and the guys took us to some fabulous spots.
I will write a review on google at the weekend.
Thanks for arranging it all.
Bridget
https://www.trolltours.com.au/wp-content/uploads/2022/01/Sydney-NorthShore-Harley-tour-BriCon1.jpg
512
682
Kat
https://www.trolltours.com.au/wp-content/uploads/2016/08/logo.png
Kat
2022-01-18 12:40:51
2022-01-18 12:41:10
Sydney NorthShore Harley tour – Bridget + Conrad 16.01.22