wedding transfer to their hotel – Daryle + Elizabeth 02.04.22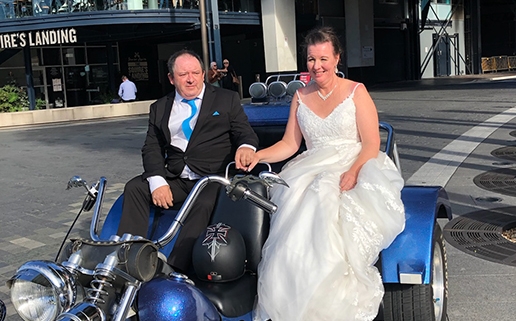 Troll Tours Pty Ltd
Daryle and Elizabeth finally had their big day today! It had been postponed a couple of times due to covid. Elizabeth thought it would be fun to organise a wedding transfer to their hotel.
They had their reception on a Tall Ship on Sydney Harbour. It was running late but our trike rider Brian, stayed around the pick up place, Campbells Cove. He waited to see if they would arrive in time before he left for his next job. They did, with 15 mins to spare. Brian would have taken them on a tour but they wanted to straight to their hotel. Getting married sure is a big event and a tiring day.
They were very happy with their trike ride and the wedding transfer to their hotel.
Campbells Cove
Pick up was at Campbells Cove which is situated on the north-western side of Sydney Harbour. It is very close to Walsh Bay, The Rocks and the Overseas Passenger Terminal.
The first use by the colonials of the land on which the Campbell's Bond Stores were built appears to have been to graze sheep on the shores of what had yet to be named Campbell's Cove. The land was leased to Henry Waterhouse, commander of the Reliance, in 1794. Two years later he went to the Cape of Good Hope and brought back a flock of sheep from Spain, which were the first merinos to arrive in New South Wales.
https://www.trolltours.com.au/product/design-your-own-ride/ Some interesting history: http://www.visitsydneyaustralia.com.au/campbells-cove.html
Sydney Harbour
Sydney Harbour is an aquatic playground for Sydneysiders, with more than 240 kilometres (150 miles) of shoreline, punctuated by unspoiled beaches, picturesque gardens and pockets of natural bush. It is also home to some of Australia's big-name attractions, including the Sydney Opera House and Sydney Harbour Bridge. We can take you on a trike or Harley tour to see many places around the harbour.
https://www.trolltours.com.au/wp-content/uploads/2022/04/Wedding-transfer-to-their-hotel-DaEl1.jpg
688
516
Kat
https://www.trolltours.com.au/wp-content/uploads/2016/08/logo.png
Kat
2022-04-03 13:56:05
2022-04-03 13:56:21
wedding transfer to their hotel – Daryle + Elizabeth 02.04.22