trike tour for surprise birthday – Po + Racel 10.05.22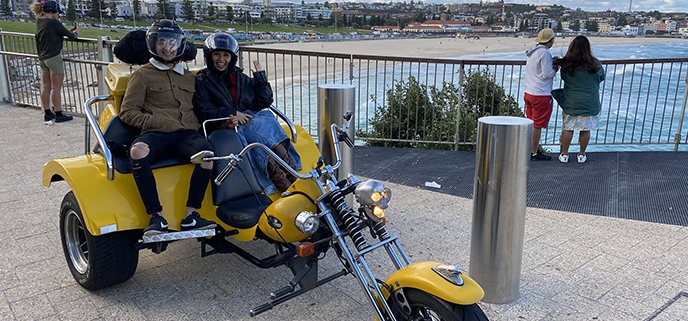 Troll Tours Pty Ltd
Racel organised the trike tour for surprise birthday experience. It was a great surprise as you can see by the smiles. We reckon it is great when can share the experience with the birthday person.
Rachel booked a 2 hour tour of Sydney though she didn't mind where they went. So, our trike rider Fred designed the tour himself. He picked them up outside Po's work place in Strathfield, in the inner west of Sydney.
North Bondi and Brighton Lookout.
There are a couple of lookout at the North Bondi headland. They all offer beautiful views of Bondi Beach and out to the Tasman Sea, part of the South Pacific Ocean. Fred stopped there for a few photos and so they could admire the view.
Bondi Beach
Next, they drove past the world famous Bondi Beach to the south side. Looking from the two ends of the beach give a different perspective. This is the beach where Bondi Lifeguards of the Bondi Rescue TV series is filmed. When in Sydney it is one of the places you should visit. The beach is seriously nice (but not our favourite) and we usually stop near the lifeguard station, made famous by the TV series "Bondi Rescue". Bondi Beach is one of the most visited tourist sites in Australia. Bondi Beach is recorded by the Australian Museum that Bondi means place where a fight using boondi sticks (nullas nullas or fighting sticks) took place.
Tamarama, Bronte and Clovelly
Riding further south, along more beautiful, though possibly less well known, beaches. The suburb of Tamarama has a small ocean beach about 1 kilometre south of Bondi Beach and a couple of hundred metres north of Bronte Beach. It is an extremely narrow beach and deceptive for its size. Tamarama Beach is often referred to as Glamarama (or Glamourama), owing to the alleged abundance of glamorous people who sunbathe (often topless), on what must be one of the smallest strips of sand in the state (Wikipedia). So far, the trike tour for surprise birthday is a huge success.
Bronte Beach sits on Nelson Bay, surrounded by Bronte Park. Bronte offers scenic cliff-top walking paths south to Coogee via the Waverley Cemetery and north to Tamarama and Bondi Beach. Clovelly Beach is a small and tranquil beach located at the end of a narrow bay. All these beaches are beautiful and great places to swim.
Coogee
Next is Coogee Beach where they stopped for a coffee and a stretch. Another beautiful beach and slightly more famous than the previous beaches, due to a well know hotel in Coogee. The name Coogee is said to be taken from a local Aboriginal word koojah which means "smelly place". Another version is koo-chai or koo-jah, both of which mean "the smell of the seaweed drying" in the Bidigal language, or "stinking seaweed", a reference to the smell of decaying kelp washed up on the beach. Coogee was gazetted as a village in 1838. The first school was built in 1863, and the building was converted into the Coogee Bay Hotel in 1873 (Wikipedia).
Riding past Coogee Beach to Rosslyn Flats is interesting. However, the 2 hours was almost up, so Fred headed north west, through Randwick and Moore Park before dropping them off at Surry Hills. Here they were going to continue the birthday celebrations by eating dinner. There are many restaurants to choose from in Surry Hills.
In conclusion, the trike tour for surprise birthday was a big surprise but a great one. One memorable birthday that won't easily be forgotten.
https://www.trolltours.com.au/wp-content/uploads/2022/05/Surprise-birthday-trike-tour-PoRa1.jpg
516
688
Kat
https://www.trolltours.com.au/wp-content/uploads/2016/08/logo.png
Kat
2022-05-12 12:11:51
2022-05-12 12:12:11
trike tour for surprise birthday – Po + Racel 10.05.22