surprise 90th birthday tour – Joan + Keith 14.05.22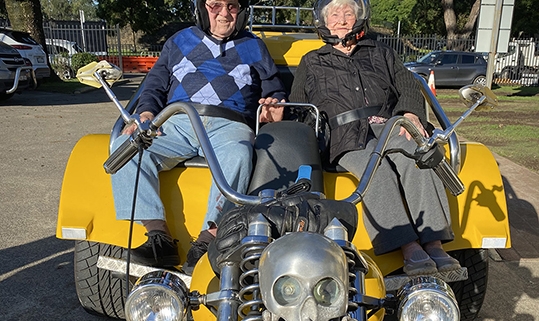 Troll Tours Pty Ltd
The surprise 90th birthday tour was organised by Joan and Keith's son. Keith has ridden motorcycles most of his life so Rod thought a trike ride would be a fun thing to do. Keith was so happy to be back on a motorbike even if it was a Chopper 4 trike.
Our trike rider Fred, picked the passengers up from Newtown in Sydney's inner west.
Darling Harbour
Firstly, they rode through the city, to the interesting Darling Harbour. Once a white elephant, it is now a thriving entertainment and restaurant precinct.
Barangaroo
Next, they rode to the new Barangaroo development. Barangaroo is named after a powerful Cammeraygal leader of the Eora Nation at the time of European colonisation. The first written account of her in 1790 described Barangaroo as being in her early 40s, worldly, wise and freer of spirit than the settlers expected of a woman – at least the English women of the time. At the bottom of this post is a link to the very interesting story about her story.
Today, Barangaroo Reserve is Sydney's newest Harbour foreshore park – marking the transformation of one of the city's oldest industrial sites into a spectacular, six-hectare headland open space. It also has interesting architecture, public art, and places for people to live, work, dine out or relax. There is a lot going on here. So far, the surprise 90th birthday tour is fun and showing very scenic areas of Sydney.
Crown Casino
They drove past Crown Sydney (also referred to as One Barangaroo), is a skyscraper in Barangaroo, Australia. It stands at a height of 271.3 m (890 ft) with 75 floors, making it the tallest building in Sydney and 4th tallest building in Australia. Construction first began in October 2016 and was completed in December 2020.
However, the hour was almost up so Fred took them to the drop off point in the inner west. Here, they would continue the 90th celebrations with family and friends at a bowls club. The surprise 90th birthday tour was a huge success and the surprise party will be also.
https://www.trolltours.com.au/product/design-your-own-ride/
https://www.barangaroo.com/about/the-place/history/barangaroo-the-woman
https://www.trolltours.com.au/wp-content/uploads/2022/05/surprise-90th-birthday-tour-JoaKei1.jpg
642
539
Kat
https://www.trolltours.com.au/wp-content/uploads/2016/08/logo.png
Kat
2022-05-15 13:57:12
2022-05-15 13:57:29
surprise 90th birthday tour – Joan + Keith 14.05.22