corporate Harley + trike transfer – Tourism Holdings Australia 18.05.22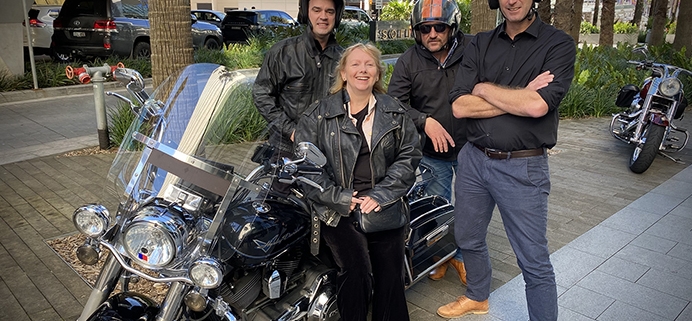 Troll Tours Pty Ltd
The corporate Harley + trike transfer was organised by Jackie for her team. They have been in Sydney for a travel exhibition, holding their own stall. It was full on work so when it finished, Jackie shouted the team the Harley + trike transfer to lunch.
Our Harley and Chopper 4 trike riders picked them up from their hotel in Darling Harbour.
Woolloomooloo
Firstly, they rode through the city to Woolloomooloo, originally a working-class district of Sydney. Woolloomooloo is home to the Finger Wharf, known for its remarkable size. It is 400 metres (1,310 ft) long and 63 m (210 ft) wide and stands on 3,600 piles. Known also for the famous Harry Cafe De Wheels. Harry's Café de Wheels has been serving customers for over 80 years. They make delicious pies, hotdogs and more. If there is time we can stop here for a break, but not today.
Kings Cross
This leads into the infamous Kings Cross, though it has calmed down a lot since it's heyday – home of the famous and huge Coca Cola sign. Kings Cross is also home to nightclubs and ladies of the night though it is not nearly as raunchy as it was in the 1970s (apparently). See the signs (and more), such as "The Love Machine" and the people, an interesting place to ride through!
Elizabeth Bay
Enjoy the lovely ride through Elizabeth Bay, which has always been a high class address – ever since Colonial Secretary, Alexander Macleay, built his exclusive residence there in 1837. In the 1930s it shared in a boom in flats built in the Art Deco style, a significant collection now heritage-listed.
Rushcutters Bay
After British settlement, the area was first known as 'Rush Cutting Bay' because the swampy land was covered in tall rushes used by early settlers for thatching houses. Gentrified way before neighbouring suburbs, the image still persists that it is more upper class than Darlinghurst, for example. Worth a ride through that is for sure.
Rose Bay
From 1938, seaplane flights to and from London began and terminated in Sydney Harbour on Rose Bay, making it Sydney's first international airport. It's a posh suburb with a large Jewish community. The ride through here is very pretty as we ride past Rose Bay, part of Sydney Harbour. So far, the corporate Harley + trike transfer was showing our visitors areas they would never have seen otherwise. A great way to start to unwind from a hard week of work.
Vaucluse
Vaucluse is one of the most prestigious neighbourhoods in Sydney, with beautiful mansions and heritage homes. Sitting next to Sydney Harbour, it's definitely worth a ride through, to see how the other half live ?.
Then it was a drive north along the Southern Peninsula. With glimpses of Sydney Harbour on the left and the Pacific Ocean on the right, it's a pretty ride.
The Gap
A notorious place for suicides, the Gap Lookout, to the left after reaching the top of the steps, offers panoramic views up and down the coast as well as up the harbour.
Watsons Bay
Once a fishing village, Watsons Bay is now one of the must-see places for visitors to Sydney Situated on a peninsula at the the southern entrance to Sydney Harbour, Watsons Bay offers panoramic views up the harbour as well as coastal vistas on the ocean side.
However, the hour was up so we dropped our passengers off at a famous restaurant and hotel. Here they could continue to relax and enjoy lunch and a few drinks. In conclusion, the corporate Harley + trike transfer was a success, a lot of fun and something different to do. https://www.trolltours.com.au/product/design-your-own-ride/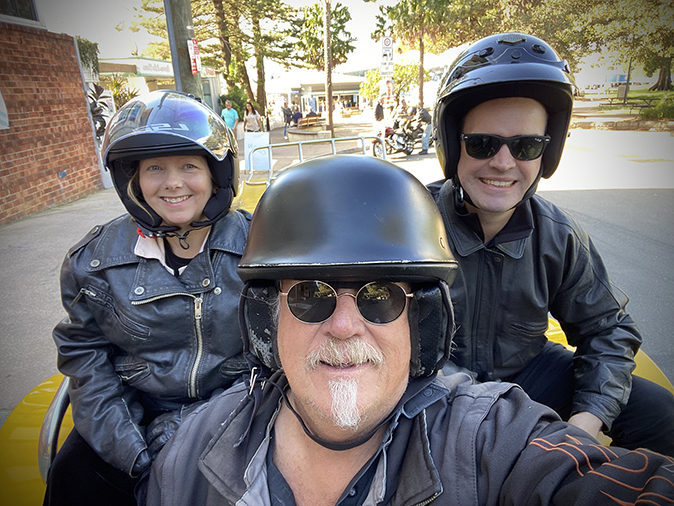 https://www.trolltours.com.au/wp-content/uploads/2022/05/corporate-Harley-trike-transfer-Tour1.jpg
519
692
Kat
https://www.trolltours.com.au/wp-content/uploads/2016/08/logo.png
Kat
2022-05-22 13:18:59
2022-05-22 13:19:18
corporate Harley + trike transfer – Tourism Holdings Australia 18.05.22