What to do in Sydney? – Glyn + Lisa 16.09.22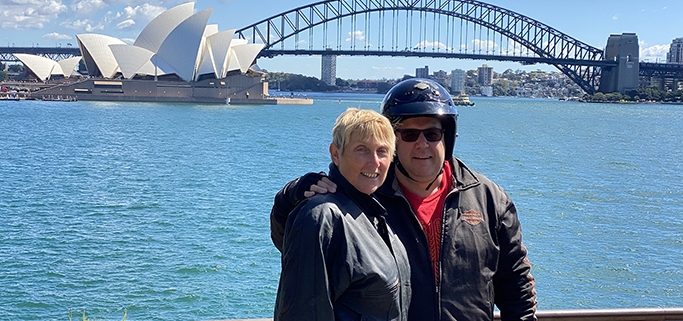 Troll Tours Pty Ltd
What to do in Sydney? That's a great question. Our passengers are from the UK and were in Brisbane when they did a "what to do in Sydney?" search. We came up, so they booked a tour with us yesterday while they were on the flight to Sydney. Well, we started talking before the flight and finalised it afterwards.
Our trike rider Fred, picked them up from their hotel in the Sydney CBD.
Harbour Bridge Southern Side
Then it was along Hickson Road and under the southern end of the Sydney Harbour Bridge. What a wonderful view! They continued on down George St and into Circular Quay. Further on they came close to the Sydney Opera House from a different angle. Even as "forever Sydneyites" we never get tired of looking at the Opera House. ?
Then they drove along George St (a major road in Sydney), past Circular Quay to St Mary's Cathedral.
St Mary's Cathedral
Past St Mary's Cathedral which is very impressive, even when riding past. It's a Gothic Revival architectural building which opened in 1928. It took from 1866 to 1928 to build and has a height of 75m.
Mrs Macquarie's Point
Luckily, there was still time left so they rode along Art Gallery Road, past the Royal Botanical Gardens to Mrs Macquarie's Point was next. It has beautiful views looking west towards the Sydney Opera House and the Sydney Harbour Bridge. They ride past Mrs Macquarie's Chair. Mrs Macquarie's Chair is an exposed sandstone rock cut into the shape of a bench, on a peninsula in Sydney Harbour. It was hand carved by convicts in 1810, for Elizabeth Macquarie, the wife of Major-General Lachlan Macquarie, Governor of NSW. The Art Gallery of NSW is also along this road, it's beautiful historic sandstone buildings were built between 1896 and 1909.
Woolloomooloo and Kings Cross
Next, they rode through the inner eastern suburb of Woolloomoolloo and past the famous Harry Cafe De Wheels. Harry's Café de Wheels has been serving customers for over 80 years. They make delicious pies, hotdogs and more. Then it was up the hill and through Kings Cross.
Eastern suburbs
Continuing on, they rode through the infamous Kings Cross, though it has calmed down a lot since it's heyday – home of the famous and huge Coca Cola sign. Kings Cross is also home to nightclubs and ladies of the night though it is not nearly as raunchy as it was in the 1970s (apparently). After there, they headed east through the posh suburbs of the eastern suburbs of Sydney, including the Bays: Rose Bay, Double Bay and Rushcutters Bay.
Watsons Bay and The Gap
North through some upper class suburbs, they rode to "The Gap" and stopped for photos. The view towards North Head and out to the South Pacific Ocean is amazing. The Gap is a spectacular place to lookout from, and it boasts an eclectic selection of flora and fauna for visitors to discover. The cliff itself is made from Sydney Sandstone, making it a part of the Sydney Basin and home to numerous bird and animal species.
The Gap also has a long history as a suicide spot for Sydney, given the easy access, combined with the flat wavecut ledge, and its dramatic location at the extreme edge of the city. A suicide was reported as early as 1863, that of Anne Harrison. She had lived at the Gap Hotel where her husband was licensee in the early 1860s. While there, her young nephew, who was visiting, accidentally fell to his death over The Gap.
She seems to have developed depression and after they had moved to the other side of the city, she took a cab in the middle of the night back to the Gap Hotel. From there she walked to The Gap to take her own life. Since then, there have been many suicides at The Gap or the adjacent cliffs, but also numerous accidental deaths from walking on the cliff top, first recorded in 1868, or from fishermen and others climbing down to the rocks below.
It became a location where someone wishing to disappear might pretend a suicide or accident, and has been used in possible murders made to look like suicides. Unrecorded are the numerous rescues by police, residents and visitors of people attempting suicide or having accidents.
https://dictionaryofsydney.org/entry/the_gap
North Bondi and Brighton Lookout
Then they turned back as this is as far as you can go on South Head. There are a couple of lookouts at the North Bondi headland. They all offer beautiful views of Bondi Beach and out to the Tasman Sea, part of the South Pacific Ocean. So far, the what to do in Sydney search was a huge success. There is so much to do and see.
Bondi Beach
Next, they drove past the world famous Bondi Beach to the south side. Looking from the two ends of the beach give a different perspective. This is the beach where Bondi Lifeguards of the Bondi Rescue TV series is filmed. When in Sydney it is one of the places you should visit. The beach is seriously nice (but not our favourite) and we usually stop near the lifeguard station, made famous by the TV series "Bondi Rescue". Bondi Beach is one of the most visited tourist sites in Australia. Bondi Beach is recorded by the Australian Museum that Bondi means place where a fight using boondi sticks (nullas nullas or fighting sticks) took place.
Tamarama + Bronte
Riding further south, along more beautiful, though possibly less well known, beaches. The suburb of Tamarama has a small ocean beach about 1 kilometre south of Bondi Beach and a couple of hundred metres north of Bronte Beach. It is an extremely narrow beach and deceptive for its size. Tamarama Beach is often referred to as Glamarama (or Glamourama), owing to the alleged abundance of glamorous people who sunbathe (often topless), on what must be one of the smallest strips of sand in the state (Wikipedia).
Bronte Beach sits on Nelson Bay, surrounded by Bronte Park. Bronte offers scenic cliff-top walking paths south to Coogee via the Waverley Cemetery and north to Tamarama and Bondi Beach.
Coogee
Next was Coogee Beach, another beautiful beach and slightly more famous than the previous beaches, due to a well known hotel in Coogee. The name Coogee is said to be taken from a local Aboriginal word koojah which means "smelly place". Another version is koo-chai or koo-jah, both of which mean "the smell of the seaweed drying" in the Bidigal language, or "stinking seaweed", a reference to the smell of decaying kelp washed up on the beach. Coogee was gazetted as a village in 1838. The first school was built in 1863, and the building was converted into the Coogee Bay Hotel in 1873 (Wikipedia).
However, the 2 hours was up and Fred dropped them off here in Coogee. Here they could continue their exploration of Sydney beaches. It was the prearranged drop off point, we don't just stop the ride when the time is up ?. In conclusion, the passengers loved their "what to do in Sydney?" tour! They saw so much in a short space of time and had fun doing it. What great memories of their trip to Sydney they have!
https://www.trolltours.com.au/wp-content/uploads/2022/09/what-to-do-in-Sydney-GlLi1.jpg
512
683
Kat
https://www.trolltours.com.au/wp-content/uploads/2016/08/logo.png
Kat
2022-09-16 23:38:16
2022-09-21 20:46:49
What to do in Sydney? – Glyn + Lisa 16.09.22