surprise 80th trike ride – Geoff + Sheila 17.09.22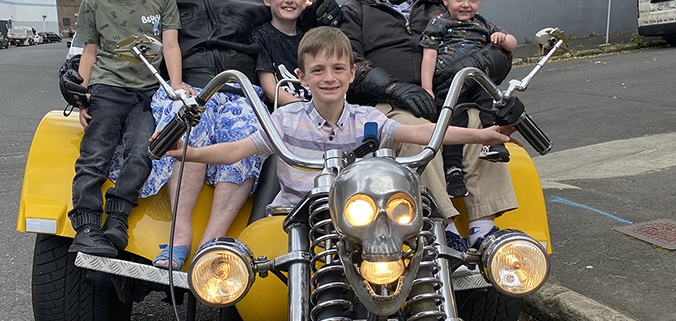 Troll Tours Pty Ltd
Geoff turned 80 – congratulations! His (and Sheila's) daughter organised the surprise 80th trike ride with us. Our trike rider Fred, picked them up from their house in the inner west of Sydney.
ANZAC Bridge
Firstly, they rode over this fabulous bridge, our favourite bridge is the ANZAC Bridge. We think it is incredible, a work of art and design. It is main bridge #3. Similarly, it is also great to see without a roof over your head inhibiting the view.
Most noteworthy, the stay cable design concept development and final design for the new bridge were carried out by the Roads & Traffic Authority of NSW. Finally, the bridge was opened to traffic on 03 December 1995 as the Glebe Island Bridge.
The bridge was given its current name on Remembrance Day in 1998 to honour the memory of the soldiers of the Australian and New Zealand Army Corps (known as Anzacs) who served in World War I.
Barangaroo
Then it was through the comparatively new development of Barangaroo. A spectacular transformation from a disused container terminal on the edge of Sydney's CBD into a spectacular 22-hectare waterfront precinct. This leads into the Rocks which is the birthplace of modern Sydney. With the arrival of European settlers in 1788, it was here that the convicts first set up house and shop.
Crown Casino
They drove past Crown Sydney (also referred to as One Barangaroo), is a skyscraper in Barangaroo, Australia. It stands at a height of 271.3 m (890 ft) with 75 floors, making it the tallest building in Sydney and 4th tallest building in Australia. Construction first began in October 2016 and was completed in December 2020.
Harbour Bridge Southern Side
Then it was along Hickson Road and under the southern end of the Sydney Harbour Bridge, where this photo was taken. What a wonderful view! They continued on down George St and into Circular Quay. Further on they came close to the Sydney Opera House from a different angle. Even as "forever Sydneyites" we never get tired of looking at the Opera House. So far, the surprise 80th trike ride was so much fun.
Hyde Park + Chinatown + Wentworth Park Greyhound Racing
Further into Sydney, they rode past the lovely Hyde Park and into Chinatown. Sydney, and the colony of NSW, experienced Chinese migration as early as 1828. The first group of Chinese labourers from Amoy (modern day Xiamen) embarked for NSW in 1848.
However, the hour was almost up so Fred rode them past the Wentworth Park Greyhound Racing track. Greyhound racing first appeared on Wentworth Park land in 1932. Past the Sydney Fish Markets (best in Australia and we know!), over the wonderful Anzac Bridge again to drop off in the inner west. In conclusion the surprise 80th trike ride was a huge success.
Semi testimonial ?
Hi Katrina,
They had a great time, they absolutely loved it and Fred was wonderful, so patient with us getting them ready for the ride and they said he had excellent knowledge of the places he showed them. Will definitely write a review…
Thank you
Aggie
https://www.trolltours.com.au/wp-content/uploads/2022/09/surprise-80th-trike-ride-GeoShe1.jpg
557
676
Kat
https://www.trolltours.com.au/wp-content/uploads/2016/08/logo.png
Kat
2022-09-18 20:56:19
2022-09-18 20:56:37
surprise 80th trike ride – Geoff + Sheila 17.09.22