Harley birthday celebration tour – Janice + Mel 19.11.22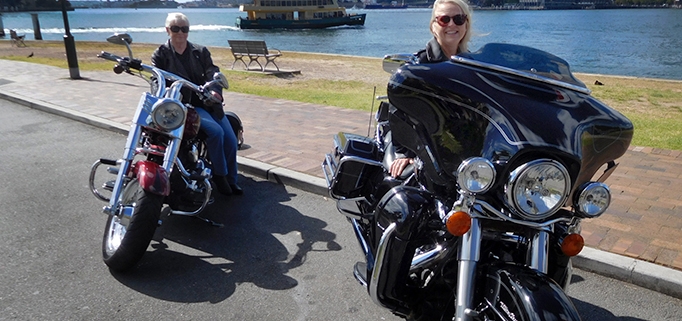 Troll Tours Pty Ltd
The Harley birthday celebration tour was for Mum and daughter. What a way to celebrate! Janice turned 80 years young – no one is too old for a Harley ride.
Testimonial
Hey Katrina,
Mum and I had a blast, thanks so much for the photos, they look awesome.
Phil and Perry were fantastic.
I will highly recommend them.
I will pop a review through and yes, no worries with posting photos. 🙂
Thanks again, you made my mum's 80th so special!
Mel
Our Harley riders Phil and Pat, picked them up from outside the Bridgeview Hotel in the Rocks.
Sydney Harbour Bridge
Firstly, they rode over the Sydney Harbour Bridge. We always tell our passengers to look up and enjoy the unique view. The more than 6,000,000 rivets are so interesting and the arch is so iconic. It's nicknamed 'The Coathanger' because of its arch-based design. It is the largest steel arch bridge in the world.
Blues Point Reserve
Continuing on, they rode on through Milsons Point, did a left hand turn and rode up a few streets. This lead to Blues Point Reserve. The views over Blues Bay towards the Sydney Opera House, the Harbour Bridge and the CBD are just stunning. All the more stunning because of the lovely weather. Another perfect place for photos. So far, the Harley birthday celebration tour is a lot of fun, showing some beautiful scenes of Sydney.
Woolloomoolloo
Next, they rode back over the Sydney Harbour Bridge and through the inner eastern suburb of Woolloomoolloo. Past the famous Harry Cafe De Wheels and into Kings Cross. Harry's Café de Wheels has been serving customers for over 80 years. They make delicious pies, hotdogs and more.
Kings Cross
The infamous Kings Cross, though it has calmed down a lot since it's heyday – home of the famous and huge Coca Cola sign. Kings Cross is also home to nightclubs and ladies of the night though it is not nearly as raunchy as it was in the 1970s (apparently).
However, the hour was almost up, so they turned around and headed back to Bridge View Hotel. From here, they could keep celebrating the birthdays. In conclusion, the Harley birthday celebration tour was a huge success, a lot of fun and a great way to Feel the Freedom!
https://www.trolltours.com.au/product/design-your-own-ride/
https://www.sydney.com/destinations/sydney/sydney-city/sydney-harbour/sydney-harbour-bridge
https://www.trolltours.com.au/wp-content/uploads/2022/11/Harley-birthday-celebration-tour-JaMe1.jpg
511
682
Kat
https://www.trolltours.com.au/wp-content/uploads/2016/08/logo.png
Kat
2022-11-25 19:24:47
2022-11-25 19:33:34
Harley birthday celebration tour – Janice + Mel 19.11.22