surprise birthday Harley transfer – Joce + Matt 21.12.22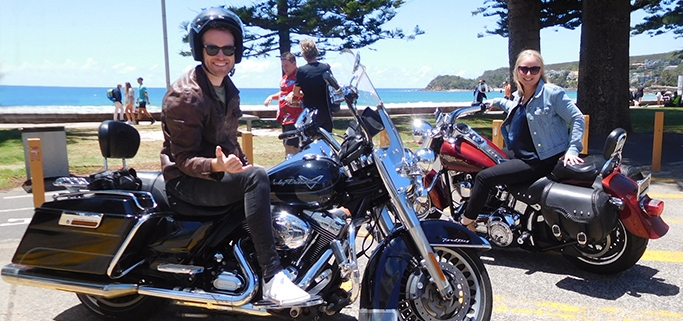 Troll Tours Pty Ltd
The surprise birthday Harley transfer was organised by Jocelyn for her husband Matt. What a way to celebrate! Our Harley riders picked them up from home in the Upper North Shore of Sydney. They rode them the scenic way to the Northern Beaches suburb of Freshwater. Then they were dropped off at a restaurant to continue celebrating.
Roseville Bridge
After leaving Killara, they rode through Lindfield and across the Roseville Bridge. Built in 1966, it is a pre-stressed concrete box girder road bridge that carries Warringah Road across Middle Harbour. Middle Harbour is the northern arm of Port Jackson. Sydney Harbour is part of Port Jackson.
Seaforth
Next, they rode through Seaforth which has lovely views over Middle Harbour.
Manly
This lead to the famous Manly. They rode along the beach front and stopped for photos. We actually prefer Manly Beach to Bondi Beach. Some interesting history: The first official dispatch in 1788 from Arthur Phillip, governor of the newly founded imperial outpost in NSW, noted the 'confidence and manly behaviour' of the Aboriginal people encountered on the northern side of the entrance to Sydney Harbour. Thus Manly derived its name. So far, the surprise birthday Harley transfer is a lot of fun, way better than a taxi ?.
Queenscliff
Riding further north and along the Queenscliff Beach forefront. It's actually the far north end of Manly Beach but has its own name and suburb.
Freshwater
The Freshwater area was once fished and utilised by overlapping clans of the Garigal people to the north and the Gayamaygal to the south, and evidence of their habitation remains today in the form of the indigenous Australian art such as rock engravings, open campsites, and rock shelters. However, the hour was almost up so there was no time to explore the area. Our Harley riders dropped the passengers at the restaurant. In conclusion, the surprise birthday Harley transfer was a lot of fun, just look at their smiles!
https://www.trolltours.com.au/wp-content/uploads/2022/12/surprise-birthday-Harley-transfer-JoMa1.jpg
512
683
Kat
https://www.trolltours.com.au/wp-content/uploads/2016/08/logo.png
Kat
2022-12-22 21:09:32
2022-12-22 21:09:52
surprise birthday Harley transfer – Joce + Matt 21.12.22