non verbal autistic Xmas gift – Byron + Family 15.01.23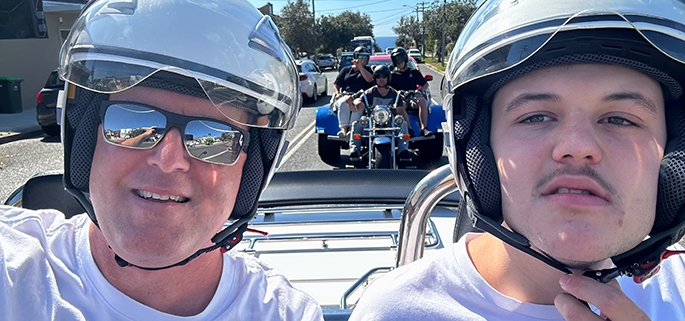 Troll Tours Pty Ltd
Byron's Mum organised the non verbal autistic Xmas gift for him. It is a challenge to find experience's he can cope with. This he did and loved it according to his Mum Kirsty.
Google Review
"We organised a gift voucher for our sons Christmas present. Our son, is non verbal autistic so experiences can be challenging. He loves to drive, so thought the trike ride might be a winner & it was!
From the minute I inquired, Katrina was accommodating & responsive.

We had Brian & Kym on the two trikes, which accommodated our family of 4. It was a fantastic experience, cruising the eastern suburb beaches. We felt like we were on holidays in our own city. Both Kym & Brian were accommodating with our son's needs.
We will definitely book again as a special treat."
Kirsty
Maroubra Beach
The family comes from the SW of Sydney, so they drove to Maroubra Beach and met our two trike riders outside the Maroubra Seals Sports and Community Club. Firstly, our trike riders rode past Maroubra Beach, Maroubra is a local Aboriginal word meaning place of thunder. The first house built in the area was in 1861, so it has plenty of history.
Coogee Beach
Next, they rode north along the coast and past Coogee Beach. It is a great beach with calm surf and is family-friendly. The promenade area has restored historic buildings and nurtured parklands.
Bronte
Riding further north, along more beautiful, though possibly less well known, beaches. Bronte Beach sits on Nelson Bay, surrounded by Bronte Park. Bronte offers scenic cliff-top walking paths south to Coogee via the Waverley Cemetery and north to Tamarama and Bondi Beach. So far, the non verbal autistic Xmas gift is a fun experience.
Tamarama
Yet further north, the suburb of Tamarama has a small ocean beach about 1 kilometre south of Bondi Beach and a couple of hundred metres north of Bronte Beach. It is an extremely narrow beach and deceptive for its size. Tamarama Beach is often referred to as Glamarama (or Glamourama), owing to the alleged abundance of glamorous people who sunbathe (often topless), on what must be one of the smallest strips of sand in the state (Wikipedia).
However, the hour was half up. So our riders turned around and rode back a different route. They dropped the happy passengers back at their car. In conclusion, the non verbal autistic Xmas gift was a great success. Byron had a lot of fun, as did his brother and parents.
https://www.trolltours.com.au/wp-content/uploads/2023/01/non-verbal-autistic-Xmas-gift-KirByr1.jpeg
514
685
Kat
https://www.trolltours.com.au/wp-content/uploads/2016/08/logo.png
Kat
2023-01-23 00:23:23
2023-01-23 00:24:15
non verbal autistic Xmas gift – Byron + Family 15.01.23