Sydney Mardi Gras parade – Mardi Gras 25.02.23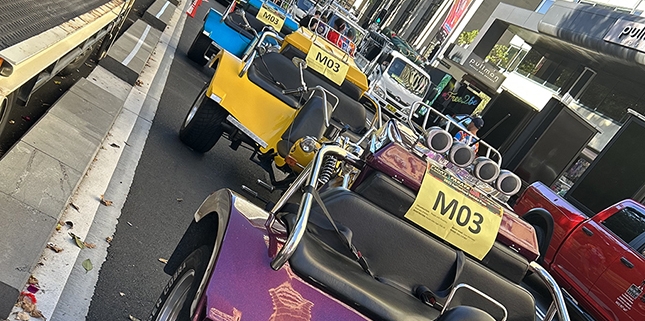 Troll Tours Pty Ltd
The Sydney Mardi Gras parade 2023 was fun. For those who don't know, Mardi Gras is French for "Fat Tuesday", reflecting the practice of the last night of eating rich, fatty foods before the ritual Lent season begins on Ash Wednesday.
The Sydney Gay and Lesbian Mardi Gras festival culminates in the renowned Sydney Mardi Gras Parade, an LGBTQIA+ rights protest and celebration of sexuality. The parade features more than 20,000 entrants this year, in colourful costumes and elaborate floats, who represent a community group, topical theme or political message.
The last 2 years the parade has been held at the Sydney Cricket Ground which is not quite the same. 2023 brings it back to it's usual home (since 1978) on Oxford St. Since 2014, we have joined with People with Disability Australia (pwda) in the parade, with the exception of the covid years.
A long but fun day
It's a long but fun day. The Mardi Gras organisers are very strict, which is a very good thing. ID, paperwork, permits, entry passes all have to be organised. People with Disability Australia organise all that for us. We joined the float at 2pm so when we arrived at the marshalling area, we were all together. After checking everyone's ID and paperwork we took our place among the parade participants. We were #10 in the parade which was good, it meant we finished early.
Mardi Gras
Earlier, in the planning days, we received an email from the organisers, "Mardi Gras is just one of the many activities being held across the two-week festival. The eyes of the world will be on us! And as result of it WorldPride there will be approximately an extra 500,000 people from all around the world joining Mardi Gras this year – an event that usually has 200,000 participants and spectators."
That's a lot of people!
After waiting for many hours, the time came and off we went. It was a time of celebration, fun and acceptance, no matter who you are.
History
On 24 June 1978 a small group of gay and lesbian people operating as the Gay Solidarity Group staged a day of events in Sydney. The intention was to promote gay and lesbian culture and to encourage political activism against the discrimination they routinely experienced.
I (Katrina) was actually in Chinatown with my family and some family friends. We had finished eating, came out to the footpath to go home. Suddenly, a large tray truck drove by. On the back were semi-naked men in bondage leather costumes. As a 13 year old, it was something I had never seen before – actually something no-one had seen before. So, I have never forgotten but it wasn't until decades later I realised it was the first Mardi Gras parade in Sydney.
https://www.trolltours.com.au/product/design-your-own-ride/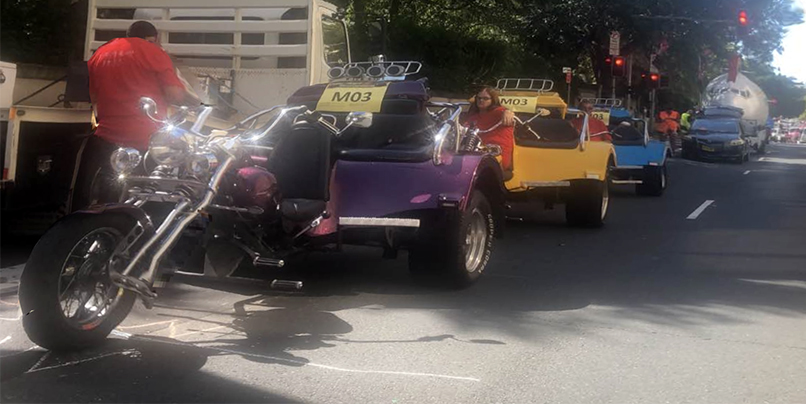 https://www.trolltours.com.au/wp-content/uploads/2023/02/Sydney-mardi-gras-parade-1a.jpg
585
645
Kat
https://www.trolltours.com.au/wp-content/uploads/2016/08/logo.png
Kat
2023-02-26 19:45:51
2023-02-26 19:51:15
Sydney Mardi Gras parade – Mardi Gras 25.02.23