60th birthday trike tour – Helen + Silvia 26.02.23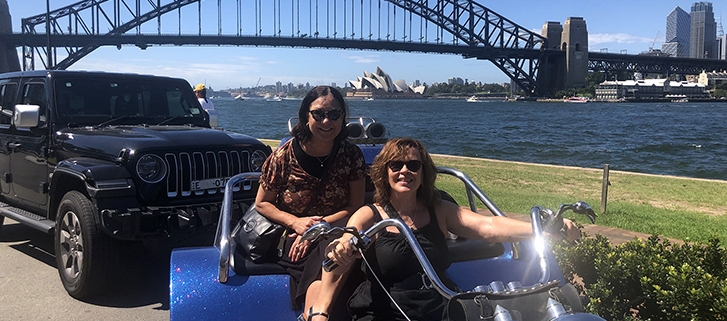 Troll Tours Pty Ltd
The 60th birthday trike tour present was a success.
Review
"Thank you so much, we had an amazing day. Brian was a perfect gentleman, took really good care of us. I would recommend this to my friends. 
Thanks"
Silvia 
Sydney Harbour Bridge
Our trike rider Brian, picked them up from one of their homes in the inner west of Sydney. Firstly, they rode over the Sydney Harbour Bridge. We always tell our passenger to look up and enjoy the unique view. The more than 6,000,000 rivets are so interesting and the arch is so iconic.
Kirribilli
Next, they rode past Kirribilli House. Kirribilli House is the secondary official residence of the Prime Minister of Australia. After that, they rode around the corner to Jeffrey Street Wharf. From here, the views across Sydney Harbour towards the Sydney Opera House and the CBD are magnificent. In addition, it also has an up-close view of the side and underneath of the bridge. A perfect place to stop for photos. So far, the 60th birthday trike tour was a lot of fun and they have already seen so much.
The Kirribilli Loop
They rode under the north side of the bridge and continued on their tour. The underside of the northern end of the SHB – Sydney Harbour Bridge – is very interesting. The Kirribilli Loop was finished by riding past Luna Park and the North Sydney Olympic Pool.
Blues Point Reserve
Continuing on, they rode on through Milsons Point, did a left hand turn and rode up a few streets. This lead to Blues Point Reserve. The views over Blues Bay towards the Sydney Opera House, the Harbour Bridge and the CBD are just stunning. All the more stunning because of the lovely weather. Another perfect place for photos.
However, the hour was almost up, so Brian rode back over the Sydney Harbour Bridge and dropped them off at Circular Quay. In conclusion, the 60th birthday trike tour was the best present ever, a great way to celebrate turning 60! Overall, a huge success. Feel the Freedom!
https://www.trolltours.com.au/wp-content/uploads/2023/03/60th-birthday-trike-tour-HelSil1.jpg
491
727
Kat
https://www.trolltours.com.au/wp-content/uploads/2016/08/logo.png
Kat
2023-03-02 23:51:34
2023-03-02 23:51:57
60th birthday trike tour – Helen + Silvia 26.02.23